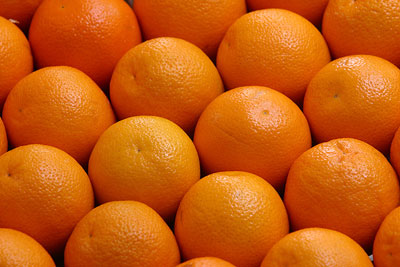 The orange is one of the world's most popular fruits. Its juice is a breakfast staple, and the fruit makes a delicious and healthy snack. Oranges are especially popular during cold and flu season due to their high vitamin C content.
What is It?
The orange is a citrus fruit that grows in tropical and subtropical climates. It is orange in color, round, and typically 2 to 3 inches in diameter. Its skin is thick in most varieties. The inside is divided into an average of ten segments, called carpels, each containing seeds.
There are numerous varieties of oranges. Among the most popular are the Valencia, which has a thinner skin than most, and the navel, which is seedless. Blood oranges have a deep red interior and intense flavor, and Cara Caras are a type of navel orange that has a distinctive tangy taste. Bitter oranges are less popular than their sweet counterparts but are often used in recipes or to make jam.
The first sweet oranges were cultivated in Asia. Orange trees were well established in Europe by the 1600s. Sailors often planted them along their routes, making oranges readily available to help prevent the vitamin C deficiency, or scurvy, that was so common among them.
Orange trees were introduced to the United States in the 1700s. The country is now a leading producer of oranges, mainly in the states of California and Florida. Other major orange growing countries include Brazil, Mexico, Spain, China and Israel.
Health Benefits
A single orange contains all the vitamin C you need in a day, and then some. Vitamin C boosts the immune system and acts as an antioxidant, preventing damage to our cells from free radicals. Studies have shown that dietary vitamin C is far more effective than vitamin C supplements in providing these benefits.
Oranges are also a source of folate, potassium, calcium and vitamins A and B1. They contain over 170 phytonutrients and 60 flavonoids. This powerful combination of nutrients has numerous benefits. One of the most notable is protection against cancer. Studies have shown an impressive 40 to 50 percent reduction in the risk of esophageal, larynx, pharynx and stomach cancers with regular consumption of citrus fruits.
Other benefits of including oranges in your diet include protection against arthritis, asthma, Alzheimer's disease, Parkinson's disease, diabetes, multiple sclerosis and Crohn's disease. Studies have linked many of the nutrients found in oranges to a protective effect against heart disease and stroke as well.
Fun Fact
Most people think that the orange was named for its color, but the color orange was actually named after the fruit. The color orange was originally called "yellow-red." It wasn't until the 16th century that the word "orange" was commonly used for the color.
How to Eat
Color is not necessarily an indicator or ripeness or flavor in oranges. When selecting oranges, avoid fruits with soft spots or mold growth. Oranges have a tendency to retain pesticide residues, so it's best to purchase organic oranges if they are available. Oranges may be stored up to 2 weeks, with our without refrigeration.
Oranges are most often eaten raw or juiced. Mandarin oranges make a sweet addition to salads. Orange segments are occasionally used in cooking, but orange juice and zest are more commonly found in recipes.
Orange Recipes
Orange and Peanut Sweet Potatoes
2 md. sweet potatoes
¼ tsp finely shredded orange peel
2 tbsp orange juice
½ cup orange juice
2 tsp cornstarch
4 tbsp honey
2 tbsp peanuts
Peel and slice sweet potatoes crosswise into ½-inch thick slices. Place in a 1-quart casserole. Sprinkle lightly with salt. Sprinkle with 2 tbsp orange juice. Micro-cook, covered, on 100% power for 6 to 8 minutes or till potatoes are tender.
Let stand, covered, while preparing sauce.
For sauce, in a 2-cup measure stir together ½ cup orange juice, cornstarch, and finely shredded orange peel. Stir in honey.
Micro-cook, uncovered, on 100% power for 1 to 2 minutes or till thickened and bubbly, stirring every 30 seconds.
Stir together sauce and potato slices. Sprinkle with roasted but unsalted peanuts.
Orange Dumplings
1 tablespoon butter
¾ cup granulated sugar
1½ cups flour
1½ teaspoons baking powder
¼ teaspoon salt
½ cup milk
? cup finely chopped walnuts
½ teaspoon nutmeg
Orange Sauce:
2 cups orange juice
1 cup granulated sugar
1 tablespoon butter
½ teaspoon cornstarch
½ teaspoon grated orange peel
¾ cup boiling water
In 1½-quart saucepan combine orange juice, sugar, butter, cornstarch and orange peel. Add boiling water. Boil 10 minutes.
Pour into 10 x 8 x 2-inch baking dish.
Make dumplings: Cream butter and sugar. Add flour, baking powder and salt alternately with the milk. Drop by tablespoons into orange sauce.
Combine nuts and nutmeg. Sprinkle over dumplings. Bake at 375 degrees F for 20 minutes or until wooden pick inserted in a dumpling comes out cleanly.
Serve dumplings with sauce spooned on top. Top with whipped cream (optional).
Orange Poppy Seed Cake
3 cups all-purpose flour
2 cups granulated sugar
¼ cup poppy seed
2 teaspoons baking powder
¼ teaspoon salt
1 cup cooking oil
3 eggs
¾ cup milk
2 teaspoons finely shredded orange peel
½ cup orange juice
1 cup sifted powdered sugar, optional
3 to 4 teaspoons orange juice, optional
Grease and lightly flour a 10-inch fluted tube pan; set pan aside.
In a large bowl stir together flour, sugar, poppy seed, baking powder, and salt. Add oil, eggs, milk, orange peel, and the ½ cup orange juice. Beat with an electric mixer on low to medium speed about 60 seconds or until well combined. Pour batter into prepared pan.
Bake in a 350 degree F oven for 50 to 55 minutes or until a wooden toothpick inserted near center of cake comes out clean. Cool cake in pan on a wire rack for 10 minutes. Remove cake from pan.
If desired, in a small bowl combine powdered sugar and the 3 to 4 teaspoons orange juice. Whisk until smooth; drizzle over warm cake or pass with cake. Cover; store at room temperature for up to 3 days. Makes 18 servings.
Make Ahead Tip: Prepare, bake, and glaze cake; cool completely. Place the cake on a baking sheet and freeze until firm. Once firm, place cake in a 2-gallon freezer bag and freeze for up to 1 month. Before serving, thaw at room temperature for several hours.
Orange Chicken Salad
¾ cup mayonnaise
3 cup chopped cooked chicken
8 oz Edam cheese cubed
1 cup sliced celery
2 tbsp chopped onion
¼ tsp salt
11 oz can mandarin
Orange slices
Drained lettuce
Combine mayonnaise, chicken, cheese, celery, onions and salt, mix lightly.
Fold in orange segments chill.
Spoon into lettuce-lined bowl.
Kiwi-Orange Salsa
1 cup peeled, sliced and quartered kiwi
1 cup orange segments
2 jalapenos, minced
1 cup chopped onion

Combine.
Serve this over grilled fish.