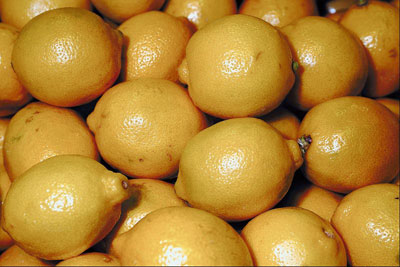 It's not often that you see someone snacking on a lemon. The citrus fruit's sour flavor isn't very popular on its own! But add its juice to some iced tea or mix it with sugar to make lemonade, and you'll find that the lemon has plenty of fans.
What is It?
The lemon is a citrus fruit that is believed to be a hybrid of the sour orange and the citron. It is oval in shape and bright yellow in color. The skin is usually thick. The pulp is divided into ten sections, each containing one or more seeds.
Little is known about the lemon's origins, but evidence points to India, Burma and China as possible locations for the first lemon trees. They were introduced to Europe around the first century AD, and to the Middle East around the seventh century AD. Lemon trees came to the New World with Spanish explorers in the 1400s, but at that point they were used primarily as ornamental plants or for medicinal purposes. Serious cultivation efforts did not begin until many years later.
Health Benefits
Lemons are loaded with vitamin C, which is great for the immune system. It is also one of several antioxidants found in a lemon – the others include vitamin A, vitamin E, naringenin, lutein, lycopene and beta carotene. Antioxidants provide numerous benefits to the body, including protection against arthritis and cancer. Other beneficial vitamins and minerals found in lemons include folates, niacin, pantothenic acid, pyridoxine, riboflavin, thiamin, potassium, calcium, copper, iron and magnesium.
Lemons are frequently used in herbal medicine and home remedies. It can be applied directly to pimples and canker sores to help eradicate them. Lemon juice mixed with hot water and honey is a popular cold and flu remedy. Lemon oil is used in aromatherapy to fight fatigue and increase concentration.
Fun Fact
Lemons were very popular among miners during the California Gold Rush. Their high vitamin C made them ideal for preventing scurvy. Some miners would pay as much as a dollar each for lemons!
How to Eat
For optimal flavor and nutrition, choose lemons that are fully ripened. They should be bright yellow and free of hard or soft spots. Lemons may be stored refrigerated for up to 4 weeks, or unrefrigerated for about a week.
Most recipes that use lemons call for lemon juice. Before juicing, make sure lemons are at room temperature and roll them on the countertop under your palm a few times. These steps will ensure that you get as much juice as possible.
Some recipes call for lemon zest, which is the colored part of the peel. Remove the zest with a zester or vegetable peeler, taking care to avoid the white pith.
Lemon Recipes
Lemon Garlic Shrimp
1 pound large shrimp (26-30) peeled, deveined and cooked
Juice and zest of two lemons
1 tablespoon chopped fresh garlic
½ cup finely chopped parsley
½ teaspoon salt
¼ teaspoon black pepper
¼ cup olive oil
1 tablespoon capers
Garnish: lemon zest, lemon slices, chopped fresh parsley

Clean shrimp, if necessary, and poach until pink. Cool in ice. Drain shrimp from ice.
In mixing bowl, whisk together lemon zest, juice, garlic, parsley, salt, pepper, olive oil and capers.
Add the shrimp, toss to mix well. Refrigerate at least 1 hour before serving.
Arrange shrimp in decorative design on platter. Garnish with lemon zest and parsley.
Serves 4 to 6.
Lemon Cross Buns
12 oz. strong plain flour
3 oz. caster sugar
3 oz. butter
1 tsp. Salt
½ tsp. cinnamon
2 eggs, beaten
1 tbsp. Lemon marmalade
½ tsp. ground cardamom
¼ pint milk, warmed
2 tsps. dried yeast
grated rind of 1 lemon
Pre-heat oven to 400F
Combine the flour, spices, sugar and salt into a mixing bowl
Rub in the butter and stir in the yeast and lemon rind
Beat in the eggs and milk until and knead to form a soft dough
Place in a greased bowl, cover and leave in a warm place until it has doubled in size.
Knead again until smooth then divide into eight pieces
Shape into rolls, cut a cross on the tops and place on a baking sheet
Cover and leave until the rolls have doubled in size
Brush with egg wash then place in the oven for 15-20 minutes by when they should be a golden brown in color
Warm the marmalade and brush over the tops of the rolls
Serve while still warm
Lemon Chicken Pasta with Parmesan
8 ounces pasta shells
3 tbsp margarine melted
2 tbsp lemon juice
1½ tsp dried basil
¾ tsp garlic salt
¼ tsp pepper
2 cups cooked chicken cubed
¼ cup Parmesan cheese
Cook pasta shells according to package directions; drain and return to saucepan.
Combine melted butter, lemon juice, basil, garlic salt and pepper in a small bowl. Add to cooked pasta. Add the cubed chicken and toss gently.
Top each serving with Parmesan cheese.
Lemon Sour Cream Coffeecake
1 box yellow cake mix
1 small box instant lemon pudding
1 (4 ounce) package poppy seed
4 eggs
½ cup vegetable oil
1 cup sour cream
½ cup granulated sugar
½ teaspoon nutmeg
½ teaspoon cinnamon
½ cup walnuts, chopped
¼ cup confectioners' sugar
1 tablespoon lemon rind, grated
Prepare packaged cake mix with directions listed, adding lemon pudding mix, poppy seed, eggs, oil and sour cream.
In separate bowl combine sugar, nutmeg, cinnamon and chopped walnuts.
In another small bowl combine confectioners' sugar and lemon rind. Grease a tube pan. Pour in ? batter, then ? sugar, spices and nuts mixture. Alternate layers 3 times. Bake at 350 degrees F for 50 to 60 minutes.
Cool; remove from pan and place on serving platter; sprinkle with confectioners' sugar and lemon rind mixture.
Matzo-Lemon Sponge Cake
8 eggs, separated
1½ cups granulated sugar
Salt
½ lemon, grated rind and juice
1 cup sifted matzo cake meal
Preheat oven to 350 degrees F.
Beat yolks until light; add sugar and beat again. Add a pinch of salt, the lemon juice and rind, then the matzo cake meal and lastly fold in the whites beaten until stiff but not dry. Bake in 10-inch ungreased springform pan for 45 minutes.
Invert pan until cake is cool. If desired, split in two layers. Serve with sweetened strawberries between the layers. Spread whipped cream, flavored and sweetened, over top and sides.