Delicious, Versatile Beef
If you have ever devoured a hamburger at a family picnic or enjoyed steak at a fancy dinner, you have tasted one of America's most popular meats: beef.
Beef is the meat from cattle, one of the most commonly domesticated bovines. Farms across the nation and around the world raise cattle for beef and the meat is used in a variety of ways. Most often, it can be ground for hamburger meat, cut for roasts, steak, rob steak, sirloin, filet mignon, and more.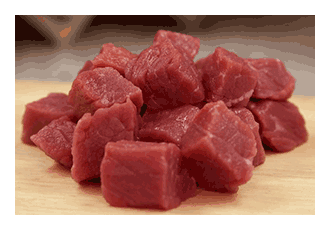 Beef is also used to produce corned beef and beef jerky. Some people eat the liver, tongue, tripe, heart, and testicles, which are considered a delicacy in some parts of the world. Others do not eat beef for religious reasons; many people who practice Hinduism do not because they believe the cow is holy.
Recipes containing beef are numerous – it is the third most consumed meat in the world and has been eaten since the time of the cavemen. The possibilities for cooking with beef are truly endless. Use ground beef for homemade hamburgers, tacos, or chili; slow cook beef all day for a tender stew; make meatloaf, Sloppy Joes, or add meatballs to your preferred pasta dish. Beef can be fried, seared, barbequed, baked and more– you can create a vast selection of meals with your favorite cut of beef.
Beef Recipes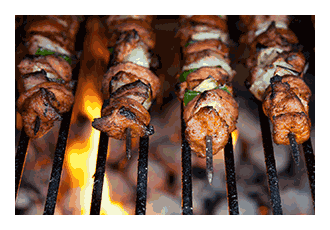 Hawaiian Beef Kebabs
½ C ketchup
¼ C vinegar
2 tsp brown sugar
3 tbsp lemon juice
3 tsp grated onion
½ tsp prepared mustard
1 tbsp Worcestershire sauce
3 tbsp dry sherry
¼ C orange juice
½ tsp Liquid Smoke
Pinch of salt
Pinch of pepper
Pinch of paprika
1 (2-lb) sirloin, cut into 1 to 1½-inch cubes
1 (20 oz) can chunk pineapple
Bell pepper, cut in 1-inch pieces
Onions, cut in 1-inch pieces
Mix first 13 ingredients in saucepan. Bring to boil and let cool completely. Place raw meat in large, shallow plastic container with lid. Pour sauce over meat. Marinate for 24 hours, turning every 3 hours.
Place meat on skewers alternating with pineapple chunks, bell pepper and onion. Cook to desired doneness on barbecue grill or under oven broiler.
Yields 6 servings.
Beef Stuffed Peppers
1 lb lean ground beef or
1 package fully cooked ground beef
4 medium green, red or yellow bell peppers
¾ C chopped onion
¼ C uncooked rice
3 tbsp ketchup, divided
1 tsp dried oregano leaves, divided
½ tsp salt
¼ tsp pepper
1 (14½ oz) can Italian-style stewed tomatoes, undrained
Cut tops off bell peppers; remove seeds and membrane. Combine ground beef, onion, rice, 2 tbsp ketchup, ½ tsp oregano, salt and pepper, mixing lightly but thoroughly. Spoon an equal amount of meat mixture into each bell pepper. Place in 8-inch square baking dish.
Combine tomatoes, remaining ketchup and remaining oregano; pour over stuffed peppers. Cover baking dish tightly with foil. Bake in 350 degree F oven for 1½ hours.
TIP: Four large zucchini or yellow squash may be substituted for the bell peppers. (Reduce cooking time by about 15 minutes.)
Serves 4.