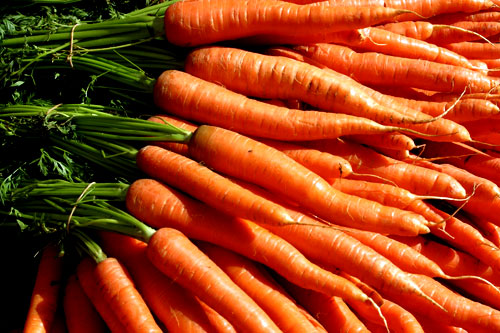 A carrot, the favorite food of cartoon comedian, Bugs Bunny, is also one of the few orange vegetables available. This orange color, provided by carotene, means it has unique nutrients and health benefits. Carrots are also versatile and come in a variety of other colors – have you ever seen a purple carrot? Let's take a look at this carotene packed veggie.
What is it?
Many vegetables grow above ground. They're harvested by picking or cutting them from the plant. The carrot is a root vegetable. It is the carrot itself that absorbs water and nutrients from the soil to provide energy for the flower growing above.
The carrot is a biennial plant which means that it takes two years to complete its life span. The second year is when the carrot flowers. The carrot flower is a large umbrella-like white flower that's quite attractive. However, it's not the flower that we're concerned with; it's the sweet, crunchy root.
History
The wild carrot is expected to have come from the Middle East. Historians have found references to this vegetable as far back as the 12th century. Cultivation began in the 16th century when it was also brought over to North America. The carrot we eat today looks much different than the carrots our ancestors consumed. It's been bred for size, taste, and a resistance to pests and disease. In the United States, the majority of carrots are grown in California, Michigan and Texas. Globally, China and Russia are the largest producers.
Health Benefits
One cup of carrots contains more than 400% of the RDA for vitamin A. Vitamin A, aka Retinal, is essential for eye health. Carrots are also an excellent source of vitamin K, fiber, vitamin C, and potassium. Carrots contain high levels of antioxidants. They also contain phytonutrients that appear to reduce the risk of colon cancer. Studies have also shown that eating carrots can reduce your risk of cardiovascular disease.
Fun Fact
The greens of the carrot plant can be eaten as well. They're often compared to parsley in taste. While carrots are good for eye health, because of the beta carotene, they don't help you see better at night. That's a myth!
Did you know that if you eat too many carrots your skin can turn orange? It's a condition called carotenosis. It's unusual but generally considered to be harmless.
How to Eat
Carrots are delicious raw or cooked. They make a great addition to any salad. You can also slice them and enjoy them with a bit of hummus or veggie dip. Carrots are a nice addition to any soup or stew as well. In fact, a beef and root vegetable stew with carrots, potatoes, parsnips and other root vegetables makes a very hearty and satisfying dish.
Let's not forget desserts! Carrot cake and carrot muffins and bread are a fun way to enjoy this vegetable. You can pickle carrots too! Carrots are inexpensive and easy to enjoy on a daily basis. From dips to desserts, add this colorful vegetable to your diet and enjoy the benefits.
Carrot Recipes
Candied Carrots
1 pound carrots, cut into 2 inch pieces
2 tablespoons butter, diced
1/4 cup packed brown sugar
1 pinch salt
1 pinch ground black pepper
Place carrots in a pot of salted water. Bring water to a boil, reduce heat to a high simmer and cook about 20 to 30 minutes. Do not cook the carrots to a mushy stage!
Drain the carrots, reduce the heat to its lowest possible setting and return the carrots to the pan. Stir in butter, brown sugar, salt and pepper. Cook for about 3 to 5 minutes, until sugar is bubbly. Serve hot!
Cabbage and Carrot Salad
cabbage (as much as desired)
carrots (as much as desired)
lemon juice or vinegar
olive oil
Wash the cabbage and slice it as thin as you can. Wash and grate the carrots. Mix carrots and cabbage in a bowl, add olive oil, salt and finally pour vinegar or lemon juice (try both versions).
Applesauce Carrot Cake
3/4 cup butter or margarine, softened
1 cup granulated sugar
1 1/2 cups firmly packed brown sugar
2 eggs
3/4 cup shredded carrots
2 1/4 cups applesauce
3 cups all-purpose flour
1 1/2 cups whole wheat flour
1 tablespoon baking soda
1 1/2 teaspoons ground nutmeg
1 1/2 teaspoons ground cinnamon
1 1/2 teaspoons ground allspice
1 cup chopped walnuts
1 cup raisins
Cream butter; gradually add sugar, beating well. Add eggs, one at a time, beating well after each addition. Stir carrots into applesauce.
Combine flour, soda, and spices; add to creamed mixture alternately with applesauce mixture, beginning and ending with flour mixture. Mix well after each addition. Fold in walnuts and raisins. Pour batter into a greased and floured 10-inch tube pan. Bake at 350 degrees F for 1 hour and 20 to 25 minutes or until cake tests done. Cool in pan 10 minutes. Remove from pan; let cool.
Yield: 10 servings.
Carrot and Coriander Soup
1 tablespoon olive oil
2 large onions, chopped
5 medium carrots, chopped
2 cloves garlic, chopped
1 fresh red chile pepper, chopped
3 (28 ounce) cans roma tomatoes, with juice
1 cup vegetable stock
1 bunch chopped fresh cilantro
2 tablespoons balsamic vinegar
1 tablespoon white sugar
1 tablespoon brown sauce
1 tablespoon Worcestershire sauce
salt and pepper to taste
1 cup heavy cream
Heat the olive oil in a large pot over medium heat, and cook the onions, carrots, garlic, and chile pepper until tender. Mix in tomatoes, vegetable stock, 1/2 the cilantro, balsamic vinegar, sugar, brown sauce, and Worcestershire sauce. Season with salt and pepper. Bring to a boil. Reduce heat to low, and simmer 30 minutes.
Transfer the soup in batches to a blender or food processor, and blend until smooth. Return to the pot, and continue cooking until heated through.
Remove soup from heat, and mix in the cream. Finely chop the remaining cilantro, and mix into the soup to serve.
Carrot Spread
1 tablespoon canola oil
2 1/2 cups chopped carrots
3/4 cup chopped onion
1/4 cup soy milk
1/2 cup filtered or spring water
1 tablespoon miso paste
1/2 cup roasted cashews
3/4 teaspoon fine sea salt
1 1/2 tablespoons real maple syrup
1 1/2 teaspoons Chinese five-spice powder
Heat canola oil in a large saucepan over medium high heat. Cook carrots and onion, stirring occasionally, until carrots are tender and onions are translucent. Do not allow the onions to brown. Add water, and bring to a boil. Cover, and simmer for 15 minutes; set aside to cool.
When mixture is cool enough to process safely, transfer to a blender or food processor. Add soy milk, water, miso paste, cashews, salt, maple syrup, and Chinese five-spice powder. Blend until smooth. Cover, and refrigerate until ready to use.