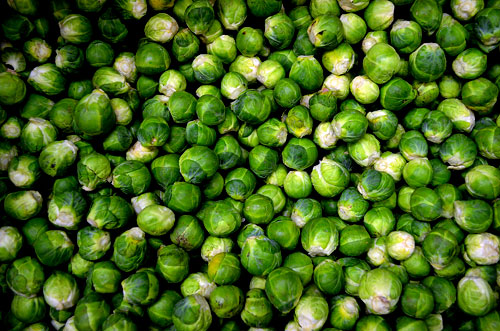 Ask any child if they like Brussels sprouts and you'll likely hear a familiar reply – yuck! It has an unfortunate reputation for being an unpleasant tasting vegetable. Yet this tiny little cabbage can be downright delicious and it is packed with nutrients.
What is it?
The Brussels Sprout is a cruciferous vegetable. It's in the same family as broccoli, kale, collard greens and cabbage. It grows in a number of places ranging from California to New York. The plants prefer a cooler temperature. And it's said that for home growers, Brussels Sprouts taste best right after the first frost.
The sprouts are available year around. However, they're often best tasting, and cheapest, when purchased in the fall. The sprouts grow like buds along a long thick stalk. They're often nestled amidst long, wide leaves.
History
Historians believe that the Brussels Sprout has been around since the 13th century and were perhaps originally cultivated in ancient Rome. As you might suspect, they are believed to have originated in Belgium near the city of Brussels and are still quite popular there. Their popularity spread to the United States in the 18th century when French settlers brought them to Louisiana. They didn't become a mainstream crop until the early to mid 1900's.
Health Benefits
Cruciferous vegetables provide an abundance of health benefits. In fact, health experts recommend eating them a few times a week. They lower cholesterol and are packed with fiber. They've also been shown to help fight and prevent many types of cancer including bladder, breast, colon, lung, prostate, and ovarian cancer. It has anti-inflammatory properties as well as anti-oxidants.
Brussels Sprouts are high in vitamin K which has been shown to improve bone health and prevent bone loss and fractures. It's also high in vitamin C, folate, fiber, and vitamin A. It also has omega 3 fats, protein, and calcium. A cup of Brussels sprouts is a mere 60 calories and contains 80% of the RDAs recommendation for vitamin C.
Fun Fact
The total annual production of Brussels sprouts in the U.S. is almost 70 million pounds.
Brussels sprouts are very popular in Great Britain - they grow about six times as many of them as the U.S. In fact, it's reported that the UK produces enough Brussels sprouts to carpet the square mile of the City of London.
How to Eat
Brussels Sprouts are a bit too chewy to eat raw. However, they're delicious when sautéed in a bit of oil or fat. Try them sautéed in olive oil or bacon fat and seasoned with salt, pepper, and a little bit of maple syrup. They're also tasty with nuts or cheese. You might enjoy them boiled and tossed with vinegar and oil.
Brussels Sprouts aren't what you remember as a child. Yes, they're great for you. However, good for you can taste good as well. Give them a second chance; you'll be glad you did.
Brussels Sprouts Recipes
Marinated Brussels Sprouts
2 (8 ounce) boxes frozen Brussels sprouts
1/2 cup tarragon vinegar
1/2 cup oil
1 clove garlic, crushed
1 tablespoon granulated sugar
1 teaspoon salt
Dash of Tabasco sauce
2 tablespoons dried minced onion
Cook Brussels sprouts until slightly under-done. Drain.
Make a marinade with remaining ingredients. Mix well and pour over Brussels sprouts while hot. Marinate 3 to 4 days before serving.
Drain and serve.
Serves 12.
Roasted Brussels Sprouts
1 1/2 pounds Brussels sprouts, ends trimmed and yellow leaves removed
3 tablespoons olive oil
1 teaspoon kosher salt
1/2 teaspoon freshly ground black pepper
Preheat oven to 400 degrees F.
Place trimmed Brussels sprouts, olive oil, kosher salt, and pepper in a large resealable plastic bag. Seal tightly, and shake to coat. Pour onto a baking sheet, and place on center oven rack.
Roast in the preheated oven for 30 to 45 minutes, shaking pan every 5 to 7 minutes for even browning. Reduce heat when necessary to prevent burning. Brussels sprouts should be darkest brown, almost black, when done. Adjust seasoning with kosher salt, if necessary. Serve immediately.
Caramelized Brussels Sprouts with Pistachios
4 pounds Brussels sprouts
1/2 cup unsalted butter
4 small red onions, cut into strips
1/4 cup red wine vinegar
2 tablespoons white sugar
salt and pepper to taste
1/2 cup coarsely chopped pistachios
Place Brussels sprouts in a steamer basket over boiling water. Cover saucepan and steam 8-10 minutes or until Brussels sprouts are tender yet crisp.
Melt the butter in a deep skillet, add the onions and 3 tablespoons vinegar; cook until onions brown.
Add the Brussels sprouts, sugar and remaining vinegar. Saute over medium heat until the Brussels sprouts are lightly caramelized.
Season with salt and pepper to taste and garnish with pistachios.
Brussels and Bacon
6 slices bacon
1/2 tablespoon olive oil
3 shallots, chopped
1 (16 ounce) package frozen Brussels sprouts, thawed and halved
Cook the bacon in a large skillet over medium-high heat until crisp; drain on paper towels and crumble.
Heat the olive oil in a large skillet over medium-high heat. Cook and stir the onion in the oil until soft; stir in the bacon and cook until bacon is heated through. Add the Brussels sprouts; cook and stir until the sprouts are browned, 7 to 10 minutes.
Brussels Sprouts with Mushrooms
4 cups Brussels sprouts, trimmed and halved
1/2 pound whole mushrooms
5 tablespoons butter
1/2 cup chopped fresh parsley
salt and pepper to taste
fresh lemon juice
Cook Brussels sprouts in a pot of lightly salted boiling water for 15 minutes, or until fork-tender; strain through a colander, removing as much water as possible. Set aside.
Melt butter in a large skillet over medium high heat. Cook and stir mushrooms until lightly browned. Toss Brussels sprouts with mushrooms, and sprinkle with parsley and lemon juice. Serve immediately.