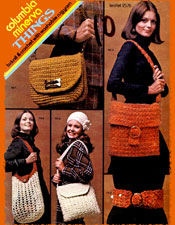 General Instructions ... Read Before Starting
All articles are made with Columbia-Minerva WASHABLE RUG YARN (1¾ oz pull skeins). The following instructions apply to this yarn exclusively.
BE SURE YOUR STITCH GAUGE IS CORRECT
Do not hesitate to change needle size to achieve gauge indicated.
ABBREVIATIONS
K – Knit
P – Purl
tog – together        
ch – chain              
sl st – slip stitch     
sc – single crochet 
dc – double crochet     
hdc – half double crochet
St St – Stockinette stitch
yo – yarn over
rem – remain
beg – beginning
inc – increase
dec – decrease
" – inches
AFGHAN STITCH:
Ch number of sts indicated. Counting loop on hook as first st draw up a loop in each ch, holding all loops on hook. To work off loops yo and through 1 loop. * yo & through 2 loops, repeat from * across until 1 loop rem's. Row 2: Draw up a loop in each vertical bar, drawing up last loop through double loop of last st. Work off loops as before. Repeat Row 2 for number of rows indicated.
To Inc 1 sc: Work 2 sc in 1.
To Dec 1 sc: Draw up a loop in each of 2 sts, yo and through all loops on hook.
Other great patterns from Things to Knit & Crochet, Leaflet 2576:
Patterns © 1973 by Columbia-Minerva. I found information identifying that Columbia-Minerva had been purchased by McBess Industries, Inc. I am unable to locate current information for McBess Industries, formerly located in Bessemer City, NC, or identify the current copyright holder. If you believe that you are the current copyright holder for this leaflet, please contact me.