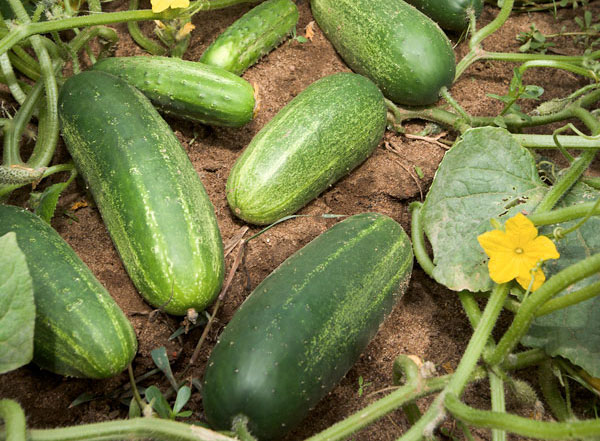 Often considered the "Green Goddess" of the home garden, this cooling vegetable is a long time favorite for many reasons. Not only is a cucumber a refreshing snack on a hot day, it is also very versatile. You'll find cucumbers in a soothing facial masque and a jar of pickles. You can't get much more versatile than that! Let's take a look at a few facts about this humble garden favorite.
What is it?
Cucumbers are oblong, green, vine-growing members of the gourd family, belonging to the same biological group as the cantaloupe, watermelon, pumpkin, and zucchini. There are several different varieties of cucumbers, including dwarf, standard, and pickling cucumbers that are used in different recipes and as side dishes or salad ingredients. Along with these uses, you'll find cucumber as an ingredient in an increasing number of skin care products.
History
This vegetable is said to be native to India, and has been cultivated for as much as 3,000 years in Western Asia. Cucumber cultivation later spread to Greece and Italy, and believed to be embraced especially by the Romans. Later, cucumbers were introduced to China, and spread throughout Europe most likely by the Romans. There are records of cucumbers being grown in France in the 9th century and England in the 14th century. The first recorded appearance in North America seems to be around the mid 16th century.
Cucumbers have had their ups and downs. During the 1600s, there grew a concern that eating raw fruit and vegetables caused a variety of illnesses sometimes referred to simply as the "summer diseases." Many so called experts on health claimed these uncooked garden produce unsafe, especially for children. Although a strong revolution took hold around the same time to eat simple healthy foods (credit sometimes given to the Quakers), the poor cucumber still suffered from the raw vegetable prejudice. Thus the name "cowcumber" stemming from the notion that raw cucumbers were "fit only for consumption by cows." Now, of course, the cucumber is revered in even the poshest of spas!
Health Benefits
Cucumbers contain silica, which is a vital component of our body's connective tissues (cartilage, bones, ligaments, tendons, etc). Cucumber slices and juice are also used to treat various types of swelling of the skin and eyes. They also contain potassium, magnesium, and vitamin C, which are important ingredients indicated in regulating blood pressure.
Cucumbers also contain fluid that increases the ability to absorb fiber. The high water content of the vegetable is said to benefit healthy skin and complexion overall. It is also one of the best-known diuretics, promoting the secretion of urine and helping with a number of diseases of the liver, kidney, pancreas, and bladder. Even though some say because of their high water content they don't offer much nutrition, this would definitely contradict that assumption.
Fun Facts
One of the cucumber varieties is called Burpless, a commercially-grown, seedless alternative to other varieties that are reported to cause gas in some people. Another variety is the pickling cucumber, which are also commercially grown to produce uniform-sized cucumbers used specifically for pickles.
If you think someone sitting around with cucumber slices on their eyes is a bit strange, think again. Cucumbers really do reduce swelling of eye tissue. And cucumbers are not just mentioned in fancy spas or in your favorite salad. Even the Bible has information regarding this widely available food in ancient Egypt (Numbers 11:5).
How to Eat
Cucumbers are easy to prepare and enjoy. Most of the time they are included raw in recipes, but they can be cooked as well. You can remove the seeds if you slice the cucumber lengthwise and scoop them out with a spoon. Store-bought cucumbers are often waxed, so be sure to peel them before eating them.
There are, of course, a number of cucumber salads that use vinegar, yogurt, or other creamy dressings. You can puree cucumbers and other vegetables into a hearty cold soup (gazpacho). You can also stuff them with a combination of cream cheese and horseradish for a delicious summer treat. Some people even create sandwiches using cucumbers with cream cheese, mayo, vinegar, and Worcestershire sauce.
Don't forget about the relish, salsa, and pickle recipes available as condiments or side dishes. Many people enjoy pickling their own cucumbers at home, for more organic, true flavor and less preservatives. You can even make jelly from cucumbers, bake them in the oven with herbs and butter, saute them with a light panko crust, or create a delicious, rich tapenade with anchovies, capers, olives, and snack crackers. The best way to utilize cucumbers is to experiment with recipes that call for vegetables that add crunch, but don't dominate the dish.
When they say "cool as a cucumber" they aren't kidding. This is one vegetable that refreshes in so many ways. Whether you're laying a slice on your eyelids and relaxing, or nibbling on a yummy salad, cucumbers are a very cool customer!
Cucumber Recipes
Cucumber Ginger Salad
2 large cucumbers, peeled
1/3 cup rice vinegar
4 tsp white sugar
1 tsp kosher salt
1 1/2 tsp minced fresh ginger root
Cut cucumbers in half lengthwise and remove any large seeds and extra pulpy flesh if necessary.
Slice into very thin pieces, crosswise, into crescent shapes.
In a bowl whisk together the vinegar, sugar, salt, and ginger.
Add the cucumbers to the bowl and toss together until well coated.
Cover and refrigerate for at least an hour before serving so the flavors blend well.
Garden Cucumber Salsa
6 small cucumbers, peeled and finely chopped
3 medium Roma tomatoes, finely chopped
1 small green bell pepper, finely chopped
1 jalapeno pepper, seeded and minced
1 small onion, diced small
1 clove garlic, minced
2 Tbsp lime juice
1 tsp minced fresh parsley
2 tsp minced fresh cilantro
1/2 tsp dried dill weed
1/2 tsp salt
Put all the ingredients in a large glass or plastic bowl and stir to combine.
Cover and refrigerate for at least 1 hour . Serve with tortilla chips.
Cool Cucumber Dressed Celery Slaw
3 cups thinly sliced celery
2 cups finely shredded red or green cabbage
1 medium cucumber, peeled and seeded if seeds are too big
1 cup plain nonfat yogurt
3 Tbsp sugar (more or less to taste)
1 to 2 Tbsp finely chopped fresh mint
In a large bowl, toss together the celery and cabbage; set aside.
In a separate bowl, make dressing by first grating the cleaned cucumber into a strainer placed over a bowl, then pressing grated cucumber lightly with the back of a large spoon to squeeze out excess liquid; discard liquid.
Dump cucumber out of strainer and into a clean bowl, and add the yogurt, sugar, and mint, stirring until sugar dissolves.
Pour the dressing over the celery and cabbage mixture and toss well to combine.
Serve immediately or refrigerate if necessary for up to 1 hours. The salad will tend to get watery if you keep it any longer than that.
Toss again just before serving.
Makes about 4 to 6 servings as a side salad.
Chilled Cucumber Soup
1 bunch spring onions
1 large cucumber
2 tablespoons sunflower oil
1 tablespoon flour
1 pint vegetable stock
salt & pepper
1 tablespoon pernod
¼ pint plain yogurt
cucumber slices to garnish
Trim and finely chop the onions.
Peel and chop the cucumber.
Heat the oil in a frying pan, add the onions and cucumbers and cook until tender.
Stir in flour cook for 1 min. Add the stock and bring to a boil, stirring well until sauce thickens.
Add salt, pepper & pernod, cover and let simmer for 5 min, stirring occasionally.
Remove from the heat and allow to cool.
Puree mixture in blender. Stir in the yogurt and chill until serving.
Cucumber Cream Sauce
1/2 cucumber
1/2 cup sour cream
1 tablespoon lemon juice
1 teaspoon grated onion
1/4 teaspoon pepper
Peel and seed cucumber. Grate enough cucumber to measure 1/2 cup. Combine grated cucumber and remaining ingredients, stirring well. Cover and chill.