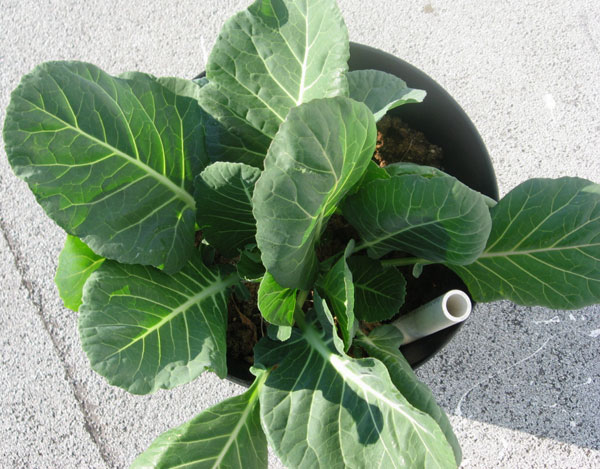 When you think Southern cooking, you can't think too long before considering collard greens. This staple of the Southern diet has a long history and many fans who have perfected cooking their "collards" for generations. Let's take a little closer look at what makes these leafy greens so special.
What is it?
Collards belong to the cabbage family of leafy vegetables which, depending on the climate, can be a perennial or biennial plant. The edible leaves have a slightly bitter taste, and are best when picked small and before they are fully mature.
Even though collard greens are available all year long, they are actually at their peak in the colder months. These greens have taken a strong hold on the Southern culture of the United States, and found their way into homes for generations, much like other greens such as mustard, chard, turnip, and kale. And, collards are actually found in many other regions around the world.
History
Ancient Romans and Greeks grew and ate collard greens as early as the 4th century B.C. The American use of collards began when African slaves brought their knowledge of creating meals from the green tops of vegetables to the colonies. Often forced to use whatever leftovers they could find after the meal was made for the "big house," these slaves learned to boil up the tossed-aside green tops of the vegetables they prepared. Slow cooking with a mixture of greens, pig's feet, or ham hocks yielded a much needed meal. The juice left from cooking greens, sometimes called pot likker, or pot liquor depending on your region, was also consumed.
As these recipes started to make their way out of the slave quarters and into the plantation kitchens, the recipes were expanded and shared in what now has become a solid Southern tradition of "soul food." But this leafy green is just as well known in Brazil, Portugal, and the Kashmir region and is so nourishing that it is considered a mainstay in these areas just as it is in America's South.
Health Benefits
Collards are known for having the best ability to bind bile acids in the digestive tract for easy consumption, thereby reducing cholesterol levels in the entire body. Cooking or steaming the greens is a much better way to produce this benefit than eating raw greens. And the taste is also improved in the cooking by most people's standards.
Whenever we talk about collard greens, we have to mention the four compounds called glucosinolates. These compounds offer protection against cancer by helping detoxify and reduce inflammation in the body. Like other cruciferous vegetables such as broccoli, cauliflower, cabbage, and bok choy, these benefits make collards a highly-recommended part of healthy diets.
Fun Facts
The state of South Carolina, the second largest producer of collards, attempted to pass a bill to make collards the official Leafy Green of the state. Many people who enjoy "soul food" along with the heritage that comes along with this African-American tradition, appreciate the idea of levitating this common green to higher status. The word "collards" is derived from the word "colewort" or "cabbage plant."
In the Southern states, when a family cooks up a big pot of greens of any variety, it is lovingly referred to as a "mess of greens." The actual distinction between a pot of greens and a mess of greens all depends on the size and tradition of the family. A New Year's tradition calls for the consumption of collards and black-eyed peas to bring good luck and a prosperous year. You might also use collard greens to do everything from curing headaches to warding off evil spirits.
How to Eat
Traditionally, collards are boiled or simmered with ham, pork, or bacon, or any salty or cured meat, and often served with cornbread to complete a true Southern-style dish. Often you'll find a jar of hot sauce or pepper sauce alongside for those who feel adventurous.
The greens make a great addition to brown rice, white rice, potatoes, pasta and quinoa. Using a flavored stock with these combinations will add a richness to the dish. Collards can also be sautéed with onions and oil or bacon grease. You may like to add a bit of brown sugar or even apple cider vinegar to kick up the flavor.
In Portugal, a popular soup called Caldo Verde (green broth) is served made with collards or kale along with potatoes and onions. This soup is often served during weddings and other celebrations.
Collards are an important part of American heritage, but also around the world, and the ancient civilizations that enjoyed them are a testament to their longevity in our culinary history. These simple greens have dressed-up tables and warmed-up bellies for generations of families who learned that cooking sometimes meant inventing delicious filling dishes from what we gathered, foraged, and cultivated.
Collard Greens Recipes
Dixie Meets Italy Collard Greens
1/2 pound collard greens
1 tsp olive oil
1 cup rough chopped celery
3/4 cup rough chopped onion
2 cloves garlic, minced
1 can (14 oz size) stewed tomatoes, undrained
2 tsp Italian seasoning (may substitute a mixture of equal parts oregano OR basil, and marjoram, rosemary, and thyme)
1 can (15 oz size) cannellini beans (may substitute navy or Great Northern), rinsed and drained
Sort and trim the collard greens to remove any browned parts and tough stems; wash thoroughly by soaking in cold fresh water, then rinsing under running water; drain, then coarsely chop and allow to drain in colander.
In a large soup pot over medium heat, put the celery and cook for 3 minutes, add onion and cook for another 3 minutes, then add garlic and cook for 1 minute, stirring constantly.
Add the prepared collard greens to the pot, stir, then add the stewed tomatoes with their juice and the seasoning; cook stirring to combine just until the collard greens wilt. Reduce heat to low, cover the pot and simmer slowly for 15 minutes.
Add beans, stir, cover the pot and simmer slowly for 5 more minutes.
Serve alongside your main meat dish or as a meal on its own with good crusty bread to sop up the juice.
This makes 4 servings.
Kickin' Collard Greens
1 tablespoon olive oil
3 slices bacon
1 large onion, chopped
2 cloves garlic, minced
1 teaspoon salt
1 teaspoon pepper
3 cups chicken broth
1 pinch red pepper flakes
1 pound fresh collard greens, cut into 2-inch pieces
Heat oil in a large pot over medium-high heat. Add bacon, and cook until crisp. Remove bacon from pan, crumble and return to the pan. Add onion, and cook until tender, about 5 minutes. Add garlic, and cook until just fragrant. Add collard greens, and fry until they start to wilt.
Pour in chicken broth, and season with salt, pepper, and red pepper flakes. Reduce heat to low, cover, and simmer for 45 minutes, or until greens are tender.
Collard Greens & Beans
3 slices bacon, coarsely chopped
1 red onion, thinly sliced
2 tablespoons minced garlic, or to taste
5 cups collard greens, stems and center ribs discarded and leaves chopped
3/4 cup water, or as needed
1 tablespoon brown sugar
2 teaspoons cider vinegar
1 teaspoon crushed red pepper flakes, or to taste
salt and black pepper to taste
1 (15 ounce) can cannellini beans, drained and rinsed
Place the bacon in a large, deep pan with a lid, and cook over medium-high heat, stirring occasionally, until evenly browned, about 10 minutes. Remove the bacon pieces from the pan, and set aside.
Reduce the heat to medium-low, and stir the sliced onion into the hot bacon fat. Cook and stir the onion until it begins to brown, scraping the bits off the bottom of the pan, about 8 minutes. Add the garlic, and cook and stir 4 more minutes. Return the bacon to the pan, stir in the collard greens, and toss gently until the greens are wilted, about 3 minutes.
Pour in the water to almost cover the collard greens, and stir in the brown sugar, vinegar, crushed red pepper, and salt and pepper. Bring to a boil, cover, reduce heat to low, and simmer the collard greens until very tender, 1 to 2 hours.
About 1/2 hour before serving, stir the cannellini beans into the collard greens, and return to a simmer.
Lentil & Collard Greens Soup
1 tablespoon olive oil
1 large onion, chopped
1 tablespoon salt
1 cup dry red lentils, rinsed and drained
6 cups water
2 tablespoons olive oil
1 bunch collard greens - rinsed, stemmed and thinly sliced
1 tablespoon ground cumin
1 teaspoon ground cinnamon
2 tablespoons minced garlic
1/3 cup lemon juice
Heat 1 tablespoon olive oil in a large saucepan over medium heat, stir in onion and salt; cook until softened and translucent, about 4 minutes. Stir in lentils, and cook for 1 minute. Pour in water, then bring to a boil over high heat, then turn heat to medium-low, cover, and simmer until the lentils are tender, about 15 minutes.
Meanwhile, heat 2 tablespoons olive oil in a large skillet over medium heat. Add collard greens, and cook until wilted, about 10 minutes. When the lentils are tender, stir in the collard greens and season with cumin, cinnamon, and garlic; allow to simmer 10 more minutes. Stir in lemon juice before serving.
Slow Cooker Collard Greens
4 bunches collard greens - rinsed, trimmed and chopped
1 pound ham shanks
4 pickled jalapeno peppers, chopped
1/2 teaspoon baking soda
1 teaspoon olive oil
ground black pepper to taste
garlic powder to taste
Fill a large pot about 1/2 full with water. Place the ham shanks into the water, and as many of the greens as you can fit. Bring to a gentle boil.
As soon as the greens begin wilting, start transferring the greens to the slow cooker. Alternate layers of greens with the ham shanks and jalapeno until the slow cooker is full. Stir in the baking soda, olive oil, pepper and garlic powder. Cover, and bring to a boil on High. Reduce heat to Low, and cook for 8 to 10 hours.