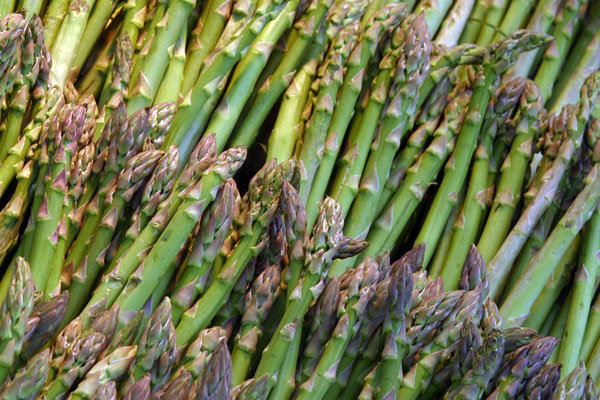 To know asparagus is to love asparagus, once you learn the right preparation. Asparagus is in many regions the first sign of springtime fresh eating. If you have only tried canned asparagus, you'll want to take the time to learn about fresh asparagus and give this amazing vegetable a try. Let's take a look at this super-green springtime miracle and how to enjoy it.
What is it?
Asparagus grows naturally as a perennial plant in Europe (mostly Spain, Ireland, and Germany) and the United States. The leaves are actually the spear shaped stalks that, in a traditional leaf, would be the stem running down the middle. Early in the growing season, the tender asparagus spike is small and slender without buds or berries. That's when they are perfect for plucking. The asparagus plant usually produces yellowish or white bell-shaped flowers and small red berries once the plant has matured into a hard, woody plant, not suitable for eating. As a matter of fact, the berries are poisonous.
History
Asparagus had an early start in the medicinal field due to its diuretic properties. You can actually find a recipe for cooking asparagus in the oldest known cookbook, Apicius' De re coquinaria, Volume III. Asparagus was originally cultivated by the Egyptians. Later the Greeks and Romans ate fresh asparagus during the warm spring and summer months and dried it to use in soups during the colder winter months. In the Middle Ages, asparagus lost its popularity, returned later in the seventeenth century and has become a popular vegetable in today's culinary environment.
Health Benefits
If you are looking for a low calorie, nutrient rich vegetable, asparagus is the answer. Asparagus is a great source of B vitamins, calcium, magnesium, and zinc. With high amounts of dietary fiber found in the outer stalk and elevated levels of folic acid, iron and vitamins E and K, asparagus is also a great food for pregnant women or nursing mothers as these are nutrients your baby needs to develop and stay healthy.
Fun Facts
Asparagus was once classified in the lily family like its cousins onion and garlic, but has since been moved into the flowering plant family, named Asparagaceae.
The green variety of asparagus is eaten worldwide, though the availability of imports throughout the year has made it less of a delicacy than it once was. In the UK, due to the short growing season and demand for local produce, asparagus commands a premium and the summer season is looked forward to all year long.
In northern Europe, there is a strong following for white asparagus which is local to the region, nicknamed 'white gold.' Asparagus was so highly demanded in the Eastern world that France's Louis XIV had special greenhouses built solely for growing it.
In the northern climates in the United States, spring is anxiously awaited for many reasons, including the asparagus that starts peeking through the ground as soon as the snow melts and the soil warms. Wild asparagus, or 'roadside asparagus' is a welcome sight, making many a motorist stop and pick fresh asparagus to their heart's content.
How to eat
Asparagus spears are served in a number of ways. A typical preparation would be as an appetizer or side dish. In Asian cooking, asparagus is often added to stir-fry and served with chicken, shrimp, or beef. In the United States, asparagus is often eaten wrapped in bacon or quickly grilled over charcoal. Many cultures use asparagus to flavor soups or served steamed with a light hollandaise sauce. You'll find asparagus, lightly cooked and bright green in color, diced and tossed in a variety of pasta dishes, hot or cold.
An easy way to cook asparagus without over cooking it, which would leave it bitter and limp, is to roast it on a baking sheet tossed with olive oil and salt. Quickly blanching the asparagus in a basket dropped into a deep pot of boiling water, then cooling in an ice bath, is another way to maintain the color, flavor, and crisp-tender texture perfect for asparagus. Asparagus is usually not eaten raw, but is often flash-cooked to maintain the crunch of raw with the flavor of cooked.
When choosing your asparagus bunch from the grocery store, look for firm, small, dark green shoots with tightly bunched heads. This will ensure you get the freshest batch. The bottom portion of the asparagus may be woody and covered in sand and dirt. Wash the asparagus thoroughly, then give the stem a quick snap; the stalk will bend and break where it is tender, so just throw out the bottoms that snap off.
Pick up any recipe book and chances are you will find at least a few amazing recipes with asparagus in the supporting, or starring, role. Give asparagus a try in a new recipe and see for yourself why people have been raving about asparagus for centuries.
Asparagus Recipes
Dressed Up Smoky Goat Cheese Asparagus
6 bacon slices, browned well, drained, and crumbled
2 lbs. fresh asparagus, washed and woody stems trimmed
2 Tbsp olive oil
1/4 tsp. sea salt
1/8 tsp. black pepper
4 oz. fresh goat cheese, crumbled
1 lemon, zested and juiced
Preheat oven to 475 degrees.
Put asparagus on large baking sheet and cover with olive oil, salt and pepper, tossing to coat evenly.
Put asparagus in preheated oven and roast for 7 to 9 minutes until asparagus is just getting tender.
Immediately put hot asparagus in serving dish and sprinkle with goat cheese and lemon zest and juice.
Serve hot with bacon crumbles sprinkled over each individual serving plate.
Wrapped Up Asparagus With Avocado Spread
20 to 24 spears fresh asparagus
1 ripe avocado, pitted and peel removed
2 limes, zested and juiced
1 garlic clove, minced or grated
dash salt
1 1/2 cups cooked brown or long-grain white rice
3 Tbsp plain yogurt
3 (10 inch size) tortillas
1/2 cup fresh cilantro leaves
2 Tbsp chopped sweet onion
Clean asparagus by snapping off the woody ends and washing.
Put whole asparagus in a steamer basket in 3 inches of water in large saucepan.  Bring to a boil and cook for 5 minutes. Take the basket with asparagus out and immediately drop in ice water or run under very cold water; then dump onto rack to fully drain.
In a small glass bowl, put avocado, lime zest and juice, garlic, and salt and smash with a fork until well combined into a paste.
In a separate bowl, put the cooked rice and yogurt and mix together well.
To put together, start by heating the tortillas in a large dry skillet, about 10 to 15 seconds both sides.
As tortillas are heated, lay each on a plate, and spread mixtures over the center of each tortilla in this order:  avocado, rice, cilantro, onion.
Fold the bottom up, then roll the tortilla closed lengthwise.
Serve immediately or if desired, refrigerate until needed. Just be sure to cover in plastic wrap and bring back to room temperature before serving.
Cut each bundle in half to serve.
Asparagus and Parmesan Sandwich
1 bunch asparagus spears, trimmed and cut in half
1/3 cup water
12 slices French bread
1/4 cup butter
1/3 cup mayonnaise
1/3 cup shaved Parmesan cheese
12 lettuce leaves
freshly ground black pepper to taste
Place the asparagus and 1/3 cup water in a bowl and cook in the microwave on high just until tender.
Rinse under cold water, and blot dry with paper towels.
Spread 1 side of 6 bread slices with 1/4 teaspoon butter and about 1 tablespoon mayonnaise each. Layer with asparagus, and sprinkle with Parmesan cheese.
Place lettuce over the asparagus, season with pepper, and top with remaining 6 bread slices to form 6 sandwiches.
Prosciutto Wrapped Asparagus
1/2 pound prosciutto, sliced
1/2 (8 ounce) package Neufchatel cheese, softened
12 spears fresh asparagus, trimmed
Preheat oven to 450 degrees F (230 degrees C).
Spread prosciutto slices with Neufchatel cheese. Wrap slices around 2 or 3 asparagus spears. Arrange wrapped spears in a single layer on a medium baking sheet.
Bake 15 minutes in the preheated oven, until asparagus is tender.
Risotto with Green Asparagus
1 pound green asparagus
1 pound arborio (Italian ) rice
2 ounce butter
1 small onion finley chopped
1 ounce grated parmesan cheese
1/4 cup white wine
salt & pepper to taste
Clean asparagus and blanch them in lightly salted boiling water, save the water for the rice.
Cut 3 inches off asparagus tips & split them in half, chop the rest of the asparagus.
Fry onion lightly in 1oz butter, add rice & let it brown slightly, add wine, two cups of the asparagus water for each cup of rice, add chopped asparagus.
let rice cook stirring constantly, if necessary add more water.
When the rice is cooked, add salt & pepper to taste, add rest of butter, top with asparagus tips and cheese.