Chicken soup is a favorite of almost everyone I know. Make it special by making your own from scratch, including the noodles! Its easier than you might think, and with a little prep and planning, you can take one roasted chicken and make it into two or three meals.
You can make this entirely from scratch by roasting your own whole chicken, and making your own egg noodles as well.
Take a giant stock pot and fill 1/2 way with cold water, and if you have any drippings from roasting your chicken, put that in as well. Take the breast meat off of the roasted chicken and set aside. Place the rest of the chicken carcass into the pot. Put a cut up carrot, and a few cut up stocks of celery, and an onion into the water as well. Salt to taste. Add in your bay leaves, rosemary, sage, and allspice.
Boil this for 2-3 hours, or until the bird is falling apart. Strain the stock and let all the meat cool down before separating it from the bone. While the stock is boiling, prepare your homemade egg noodles.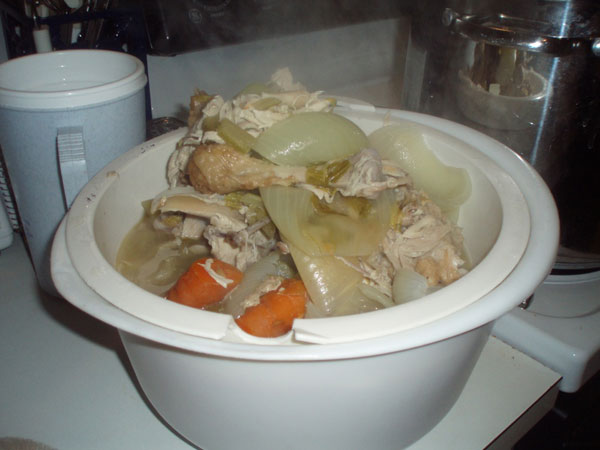 Next strain the stock through cheesecloth or through a fine-mesh strainer to remove little bits of fat and other odds and ends you don't want in your final product.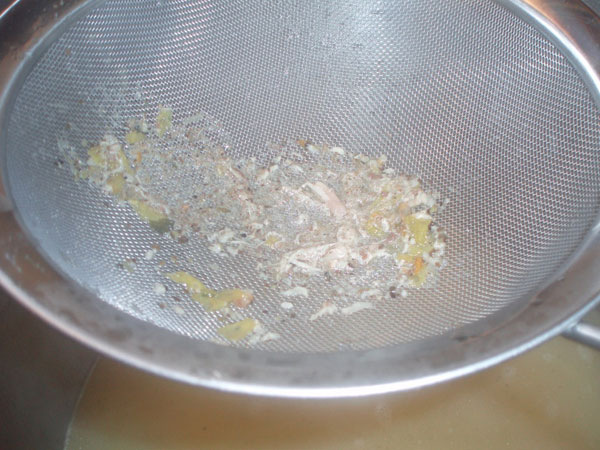 Now you have your chicken stock. Taste and add salt as desired. Also add parsley, 2-3 celery stocks (including some of the leaves from the heart of the celery), 4-5 large diced & peeled carrots, and a finely chopped onion. Simmer over medium heat until the vegetables are almost done. Dice up your chicken you set aside and add back into the pot. You want this to be just heated through. Never use the chicken you made the stock with in the actual soup. All of the flavor is extracted when making the stock, so its always best to reserve roasted chicken breast and add it back in at the very end. During the last 5 minutes of cooking, add in your batch of homemade noodles and stir frequently until the noodles are done. Serve with homemade rolls & butter.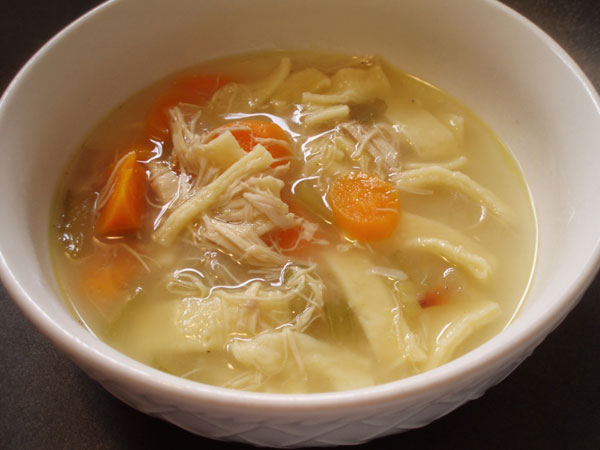 Chicken Soup
Ingredients
1 whole roasted chicken, 2-3 lbs
1 lb carrots, peeled and chopped
1 lb celery, chopped
2 large onions, peeled and diced
2 bay leaves
1 tsp sage
½ tsp rosemary
1 whole allspice
2 TBSP parsley
Salt to taste
1 batch home-made egg noodles
Directions
1. Remove large pieces of breast & thigh meat from roasted chicken and set aside. Place chicken carcass in large stock pot and cover with cold water. Place ⅓ of the carrots into the pot along with ½ of the celery, and 1 of the onions. Let simmer for 2-3 hours. While stock is simmering prepare home-made egg noodles.
2. Strain stock and discard bird and vegetables. Strain stock through a fine mesh strainer or cheesecloth. Put strained stock back into pot that's been wiped clean. Add in parsley, remaining carrots, celery, and onion. Salt to taste. Let mixture simmer until vegetables are almost done. Add in diced chicken that you removed earlier from the bird, and the home-made egg noodles. Let simmer until noodles are cooked. Serve with fresh dinner rolls and home-churned butter.