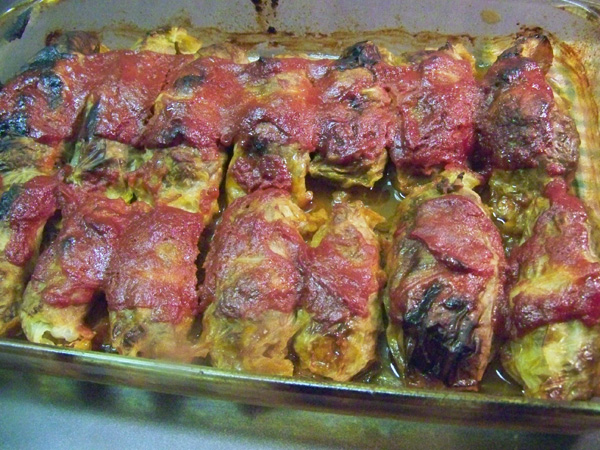 The combination of sweet and spicy ingredients in this dish makes it one of my favorites.
These are stuffed with seasoned ground beef. To make your grocery dollars stretch, you can add rice, a vegetable such as green beans, celery or mushrooms or even just an egg and some bread crumbs.
If you like your foods spicy, try adding some cayenne pepper to the filling and top the rolls with a can of Rotel diced tomatoes and peppers (comes in mild, medium and hot).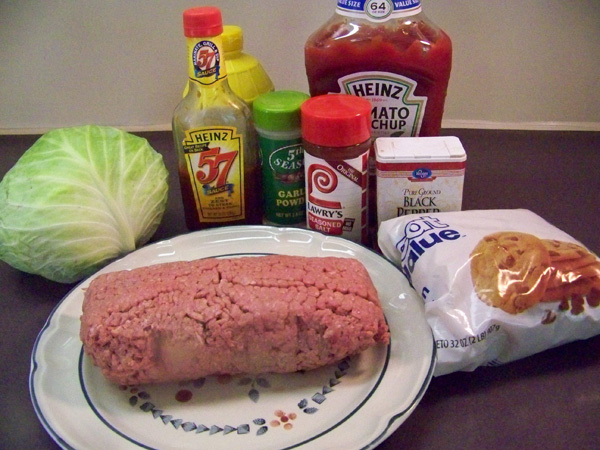 Ingredients
1 ½ lb ground beef
1 cabbage head (medium size)
¼ cup brown sugar
¼ cup 57 Sauce
½ cup ketchup (or tomato sauce) – divided into 2 parts
2 tbsp. yellow mustard
1 tbsp. garlic powder
1 tsp. season salt (or table salt)
1 tsp. black pepper
Directions
Over medium-high heat, bring a large pot of water to a boil.
Preheat the oven to 350 degrees.
While water is coming to a boil and oven is preheating, remove any wilted leafs from the cabbage. Next remove the core.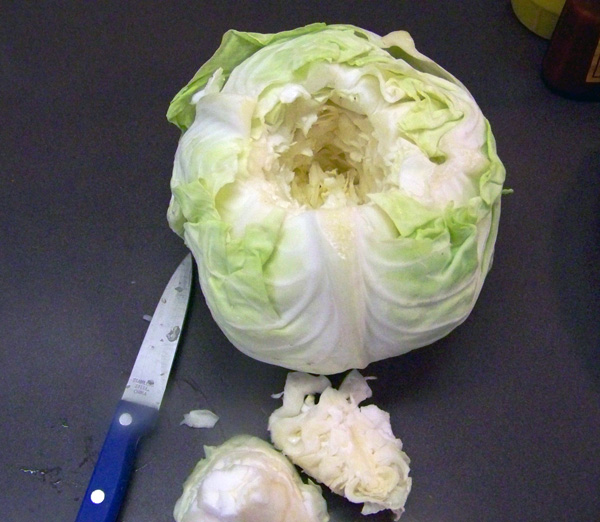 Carefully peal apart the cabbage leafs.
Tip! To avoid leaf tear, turn your kitchen sink tap on about half-way. Holding the cabbage upside down under the water, allow the water pressure help peal the leaf from the head as shown below.
Rinse each leaf & set aside.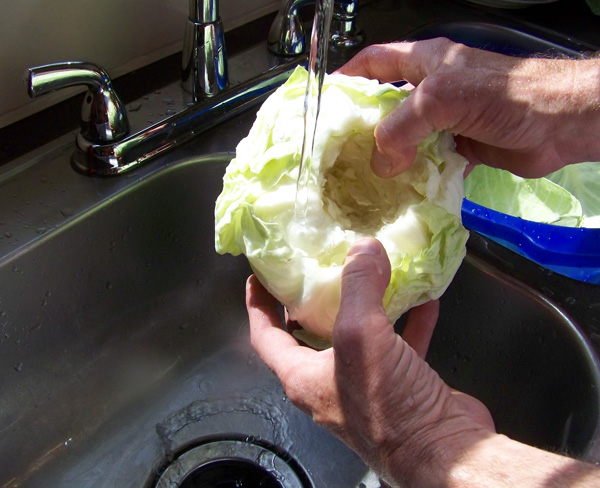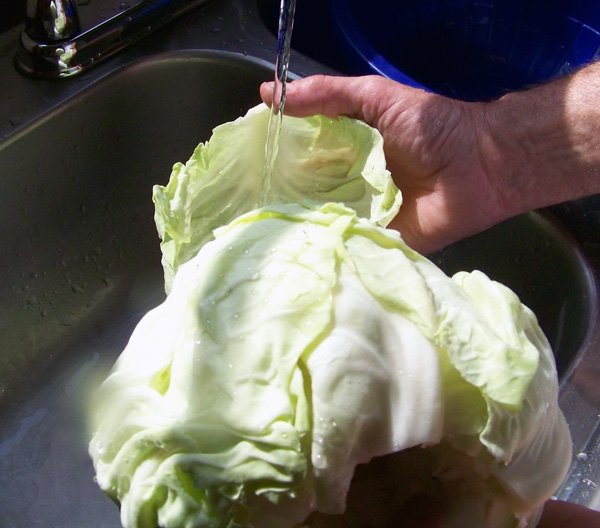 Once you have about a dozen leafs and the water is boiling, put them into the boiling water. Allow them to boil just until tender enough to be pliable. Do not over-cook or they will fall apart!
Remove from water and allow them to drain well & cool.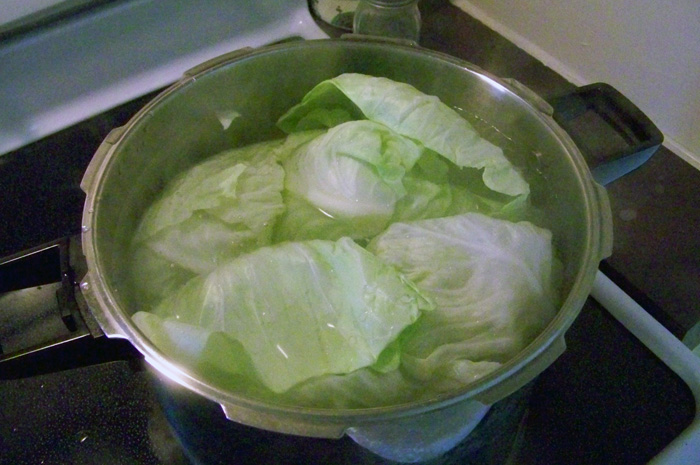 In a large bowl, add the ground beef, seasoned salt, garlic powder and pepper.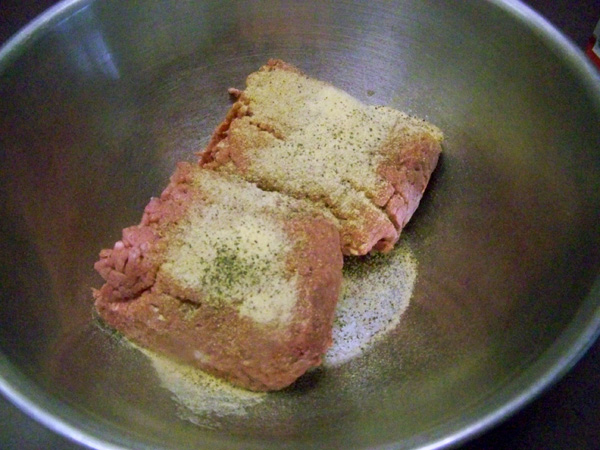 Next add the mustard, 57 Sauce and 1 part of the ketchup.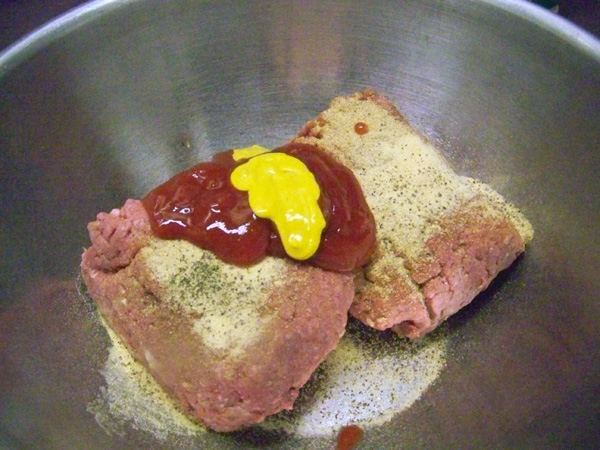 If you're stretching your budget, here is where you would add the egg and bread crumbs (or crushed crackers as we've used here) or the uncooked minute rice.
Using your hands mix until everything is incorporated well.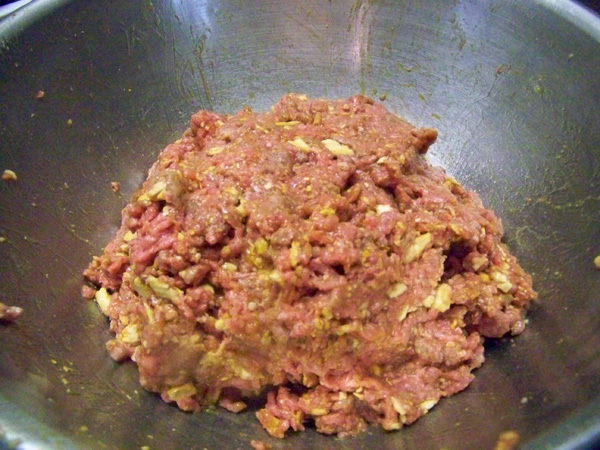 If you're adding vegetables, you would add those now and mix well enough to ensure they are blended but not crushed.
Taking one cabbage leaf spread it out on the counter. Add about 3 heaping tablespoons of the meat mixture to one side of the leaf. Roll the leaf once, then fold in both ends and finish rolling. It should resemble a burrito when it is finished.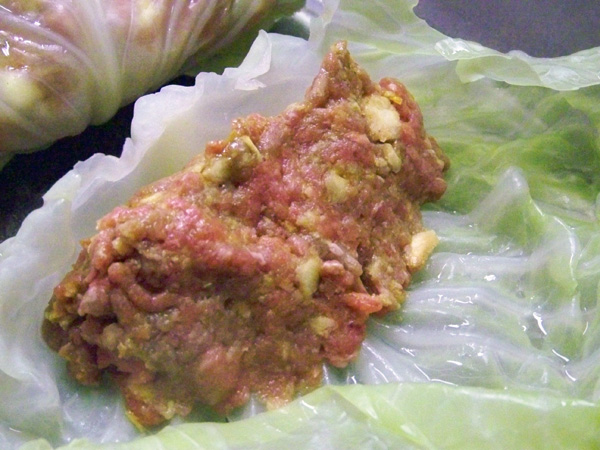 Place the rolls in a baking dish.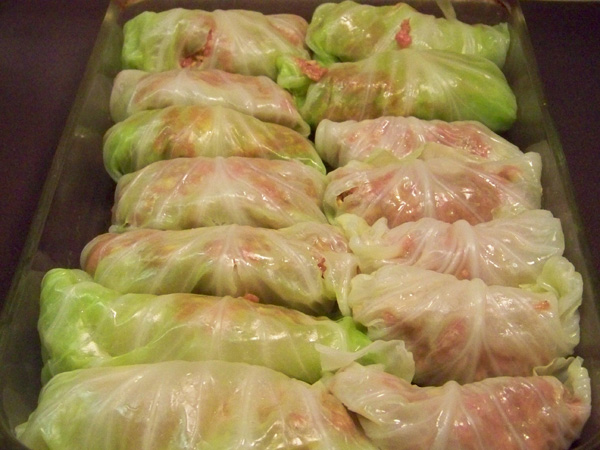 Spread the remaining ¼ cup of ketchup across the top of the rolls. Optionally you can use 1 can of tomato sauce and a pinch of brown sugar.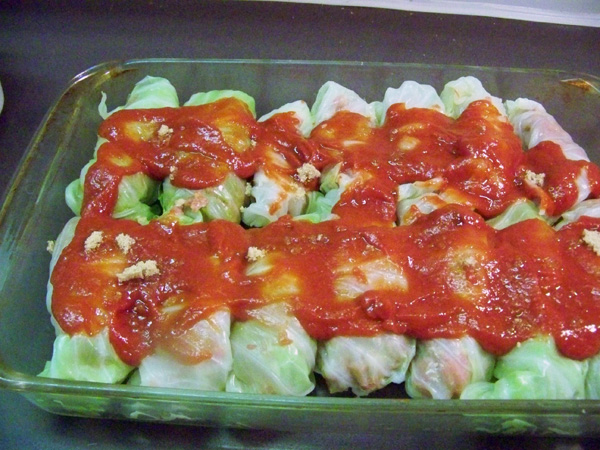 Bake at 350 degrees for 45 minutes to 1 hour depending on how thickly stuffed your rolls are.