Delicious and Juicy Pork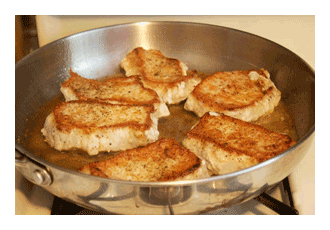 Pork has been a dietary staple for centuries. One of the oldest animals domesticated as livestock, pigs are eaten today by billions around the world. Certain religious groups place restrictions on pork consumption, such as traditional sects of Islam and Judaism, but pork continues to be the most widely consumed meat in the world, making up 38% of worldwide meat production.
Somewhere between beef and chicken, pork is a very lean meat full of protein. The U.S. National Pork Board began a 1987 campaign to advertise pork as "the other white meat" in order to counter perceptions that pork was not as healthy and lean as chicken or turkey. This slogan has since been retired, but did boost pork sales in the U.S. and is still well-known today.
One of the most common pork products in the United States is bacon – made from cured pork – which in itself can be used in hundreds of delicious recipes. Pork can also be cooked fresh from an array of different cuts of meat. Pork butt, meat from the upper shoulder, is tender and mouth-watering. Spare ribs, from the front belly, are also a great-tasting choice. No matter the cut, pork is a flavorsome meat the whole family can enjoy.
Pork Recipes
Crockpot Pork Roast
2½ to 3 pound pork boneless sirloin roast
1 tablespoon vegetable oil
¾ cup dry white wine
2 tablespoons all-purpose flour
1 teaspoon salt
½ teaspoon pepper
2 medium carrots, finely chopped or shredded
1 medium onion, finely chopped (½ cup)
1 small shallot, finely chopped (2 tablespoons)
¼ cup half-and-half
2 to 3 tablespoons country-style Dijon mustard
Trim excess fat from pork.
Heat oil in 10-inch skillet over med.-high heat. Cook pork in oil about 10 minutes, turning occasionally, until brown on all sides.
Place pork in 3½- to 6-quart crock pot.

Mix remaining ingredients except half-and-half and mustard; pour over pork.
Cover and cook on LOW for 7 to 9 hours. or until pork is tender.
Remove pork from crock pot; cover and keep warm. Skim fat from pork juices in cooker, if desired. Stir half-and-half and mustard into juices.
Cover and cook on HIGH about 15 minutes or until slightly thickened. Serve sauce with pork.
Serves 8.
All-American Pork Baby Back Ribs
4 pounds pork back ribs
Your favorite barbecue sauce (purchased or homemade)
Season ribs with salt and pepper. Place ribs on a medium-hot grill over indirect heat; close grill hood and grill untilribs are tender, about 1 1/2 to 2 hours. (Add more charcoal briquettes to fire, if necessary, to maintain grill temperature of about 325 to 350 degrees F.)
Finish by turning and basting ribs with barbecue sauce for the last 15 minutes.
Serve ribs directly from the grill or, for extra tender ribs remove from grill, wrap in heavy aluminum foil. Place foil-wrapped ribs in brown paper bags, close bags and let ribs rest for up to an hour. Unwrap ribs, cut into serving pieces and serve with extra barbecue sauce.
Serves 4.