Banana Bread Deliciousness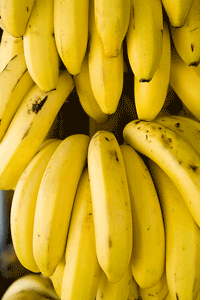 There is nothing that says home like the smell of fresh-baked bread. Except for, possibly, when the baker takes it up a notch and the bread in the oven is banana bread.
It may be a bread but this delicious treat is much more like cake. The leavening agent used in banana bread recipes is typically baking soda instead of yeast. Also unlike regular bread, banana bread is baked from batter and not dough. And, of course, it includes bananas that are more often than not mashed and put into the batter.
A huge family favorite, this has been around for years! In fact it first came into popularity in the 1930's, and ever since then a number of varieties have appeared in cookbooks. Banana bread is very easy to make, and therefore popular among home bakers, particularly when the bananas in your fruit basket are really ripe.
It is not only tasty but also versatile. Usually a great on-the-go breakfast item, either at home or grabbed at the coffee shop where the busy professional stops for his or her daily dose of caffeine. It can also be packed with a lunch as it makes a great ending to lunch, but it can certainly be a warm after-school snack for the kids when they get home from school. Further, it's a scrumptious last-minute dessert option when guests turn up unexpectedly and you find yourself whipping up a quick meal. If whipped together before dinner and popped into the oven it makes a fantastic complement to a relaxing cup of tea while watching evening television.
Banana bread is commonly baked in a loaf pan and can be cut into slices for serving. There are a lot of variations on banana breads nowadays. Some banana bread recipes are passed down by a number of families from generation to generation, and each will declare theirs the best. Perhaps the most common varieties are banana nut breads, which are made from standard banana bread recipes but also include walnuts or pecans.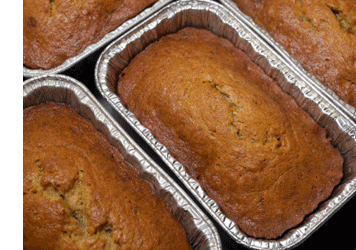 Banana Bread Recipe
2 eggs
1¾ c. sifted flour
2 tsp. baking powder
¼ tsp. baking soda
½ tsp. salt
⅓ c. vegetable shortening
⅔ c. sugar
1 c. mashed bananas (about 3 bananas)
1. Preheat the oven to 350 degrees Fahrenheit.
2. Beat eggs well in a small bowl.
3. In a medium-size bowl, sift together the flour, baking powder, baking soda, and salt.
4. In a large bowl, beat the vegetable shortening until it's creamy. Add the sugar a little bit at a time, and continue beating until the mixture is fluffy.
5. Add the eggs to the mixture in the large bowl and beat well.
6. Add some of the flour mixture to the large bowl and beat well. Then add some of the mashed bananas and beat some more. Continue adding flour, then bananas, then flour, then bananas, until everything is mixed in.
7. Pour mixture into the baking pan. Bake for 70 minutes.
8. Flip your banana bread out of the pan, let it cool for a bit, and cut it into slices to eat and share!
Easy Banana Bread Recipe
1 C mashed ripe bananas
⅓ C low-fat buttermilk
½ C packed brown sugar
¼ C margarine
1 egg
2 C sifted all-purpose flour
1 tsp baking powder
½ tsp baking soda
½ tsp salt
½ C chopped pecans
1. Preheat oven to 350º F. Lightly oil two 9 x 5-inch loaf pan.
2. Stir together mashed bananas and buttermilk; set aside.
3. Cream brown sugar and margarine together until light. Beat in egg. Add banana mixture; beat well.
4. Sift together flour, baking powder, baking soda, and salt; add all at once to liquid ingredients. Stir until well blended.
5. Stir in nuts and turn into prepared pan.
6. Bake for 50-55 minutes or until toothpick inserted in center comes out clean. Cool 5 minutes in pan.
7. Remove from pan and complete cooling on a wire rack before slicing.
Yield: One loaf
Serving Size: ½-inch slice

Each serving provides:
Calories: 133
Total fat: 5 g
Saturated fat: 1 g
Cholesterol: 12 mg
Sodium: 138 mg