Cakes That You Can Pick-up!
As soon as you realize that cupcake baking is scientific, you'll find yourself making fantastic cupcake recipes quite easily.
The density of the cupcake needs to be slightly greater than that of just plain cake. No fluffiness allowed with cupcakes otherwise the icing make them feel top-heavy and eating them becomes a chore.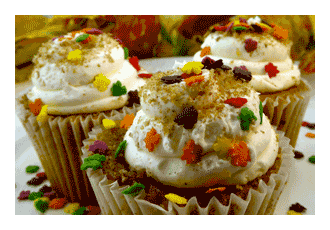 Cupcakes need to be baked at a lower temperature than with cakes, and the longer you keep them baking, the denser they will become. Getting cupcakes out of the oven that are extremely dense and flat, without any fissures, sagging or drooping is...well, a piece of cake.
Recipes for cupcakes that come from scratch, in particular those who have butter in the list of ingredients, get all hard if you put them in the refrigerator. It is the butter that causes them to harden. Therefore, cake mix is the recommended main ingredient. Think of cupcakes and their recipes as just smaller cake recipes.
If you are at a loss for what to make, then think of everyone's favorite cakes and try to duplicate the flavors of those in cupcake size. You won't be altering the original cake recipe in any way. Instead you will recreate smaller versions, complete with the icing and fillings. This opens a wide door for you to explore your creative cupcake genius.
Cupcake Recipes
Keep your wet recipe items for your cupcakes away from those dry ingredients that you will be using. Baking powder comes to life once the wet ingredients come in contact with it. So, right at the moment that you bring wet and dry together, the race is on.
Cupcakes are a bit more difficult to take on that other kinds of recipes for the simple reason that they have short baking times and the oven has a hard time baking them evenly. A wise thought would be to turn your cupcake tin around halfway through its baking time, because there are no ovens that can truly bake through evenly.
About the time that you have your cupcakes baking nicely in your oven you will turn your attention to preparing the icing, and any other ingredients that you want to use to decorate your cupcakes should be out and ready to use.
Hostess Cupcakes
½ cup plus 2 tablespoons flour
2½ tablespoons cocoa powder
¾ teaspoon baking soda
¼ teaspoon salt
½ cup granulated sugar
½ cup water
3 tablespoons vegetable oil
1½ teaspoons distilled white vinegar
1 teaspoon vanilla extract
Filling
1 cup heavy whipping cream
6 ounces finely chopped white chocolate
Glaze
3 ounces finely chopped bittersweet chocolate
3 tablespoons boiling water
Icing
1 tablespoon egg white, at room temperature
1 pinch cream of tartar
½ cup plus 2 to 3 tablespoons confectioners' sugar
Cupcakes: Position a rack in the center and preheat oven to 325 degrees F. Lightly butter 24 muffin cups.
In a medium bowl, sift together the flour, cocoa, baking soda and salt. Mix in the sugar. Make a well in the center. Whisk in the water, oil, vinegar and vanilla extract. Blend until smooth. (The batter will be very thin.) Spoon the batter into the prepared cups. Bake until a wooden pick inserted into the center of one of the cupcakes comes out clean, about 12 to 14 minutes. Cool the cupcakes in the pans on a wire rack for 5 minutes. Remove the cupcakes from the pans and finish cooling on the rack.
Filling: In a heavy medium saucepan over medium-high heat, bring the cream to a boil. Add the white chocolate and remove from heat. Let the mixture stand briefly; stir until smooth. Transfer to a metal bowl and refrigerate until chilled thoroughly, stirring occasionally. (To speed the process, set the metal bowl over a larger bowl of ice water; stir the chocolate mixture until cool.) With an electric mixer, beat the white chocolate mixture just until fluffy, about 1 minute.
Transfer the filling to a pastry bag fitted with a ⅜-inch plain tip. Insert the pastry tip ¼-inch into the bottom of each cupcake and squeeze a little filling into each one.
Glaze: Place the chocolate in a small bowl. Whisk in the boiling water and blend until smooth. One at a time, dip the top of each cupcake into the warm glaze. Turn the glazed cupcakes right side up and set them on a wire rack on top of a baking sheet. Refrigerate the cupcakes for 5 minutes to set the glaze.
Icing: In a medium bowl, whisk the egg white until frothy. Stir in the cream of tartar. Gradually mix in enough of the confectioner's sugar to make a fairly stiff and smooth icing. Fill a small paper cone with the icing and cut a z-inch opening at the tip. Remove the cupcakes from the refrigerator. Pipe a design (a squiggle, spiral, etc.) on the top of each cupcake. Let the design harden and then cover and refrigerate the cupcakes. Serve at room temperature.
The cupcakes can be made and refrigerated up to 2 days in advance, or frozen up to 2 weeks.
Makes 22 to 24 miniature cupcakes.
Lemon Cream Cupcakes
¾ cup unsalted butter, softened
1½ cups granulated sugar
6 large eggs
¼ cup fresh lemon juice
2¼ cups cake flour or all-purpose flour
1½ teaspoons baking powder
½ teaspoon salt
1 tablespoon grated lemon zest
¾ cup cream cheese, softened
Confectioners' sugar, for dusting, optional
Preheat oven to 350 degrees F. Line muffin tin with cupcake paper.
Combine the butter and 1¼ cups of the sugar in a large bowl and beat with mixer until fluffy.
Add the eggs and 3 tablespoons of the lemon juice and beat until well combined, scraping down the bowl once or twice as necessary.
Mix in the flour, baking powder, salt and 2 teaspoons of the lemon zest until just combined.
In a small bowl, mash together the cream cheese and remaining ¼ cup sugar, remaining 1 tablespoon lemon juice and remaining 1 teaspoon lemon zest until combined.
Spoon about 3 tablespoons of the batter into each muffin cup. Place about 1 tablespoon of the cream cheese mixture on top of each portion of batter and cover the cheese with some of the remaining batter (the batter should reach ¾ of the way to the top of each cup).
Bake until golden, about 20 minutes. Let the cupcakes cool in the pan for 10 minutes before turning over onto the wire rack to cool completely. Use a sifter to sprinkle confectioners' before serving.
Makes 12.
Other Cupcake Ideas
Cupcakes made from a carrot cake recipe are a great way to feed an appetizer or small snack for your friends. The black forest variety makes a great treat during either a bridal shower or the wedding itself. Sure cupcakes on their own are simple and somewhat unimaginative, but blending cupcakes together with any other major event and you have a creativity explosion on your hands.
Just read through the steps of any easy cupcake recipe and you'll come out on top as a genius every time. You'll be drawn to the numerous cupcake recipes because you can keep going and going with your thoughts on the various ways that you can decorate them, or use them for celebrations. Case in point: on National Pancake Day see if you can make a fantastic and appetizing pancake cupcake.
Cupcake recipes can be enjoyed by kids and adults alike. Anyone can come up with a jazzed up cupcake idea, and they can be for any family gathering, picnic or birthday.
Try planning a picnic for your family one afternoon and serve them up your cupcake concoction. Cupcake recipes are the easiest to make and don't require much time or effort into actually baking them. Frosting them is simple as well. Nothing is more fun that sharing your cupcake creations with friends and family.
Before you even realize it, all of your friends and family will be knocking on your door wanting you to make them cupcakes. And their family and friends will show up as well, so don't be surprised about that.
Cupcake recipes are the basis of tantalizing cupcakes with mountains of frosting and toppings. Sure, most of the time they are bland and creativeless, but no one will turn away such moist and delicious delights.