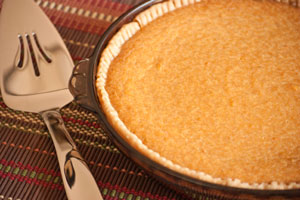 What You Need:
1 pound of sweet potatoes, peeled
½ cup real butter, unsalted and softened
1 cup granulated sugar
½ cup whole milk
2 large eggs
½ teaspoon ground nutmeg
¾ teaspoon ground cinnamon
1¼ teaspoon pure vanilla extract
1 9-inch pie crust, prepared, but unbaked
¼ cup crumbled pecan pieces, optional
How to Make It:
Preheat oven to 350 degrees. Boil sweet potatoes until soft and tender. Cool and drain. Mash potatoes in a mixing bowl. Add butter and mix until well blended. Slowly stir in sugar, eggs, milk, spices and vanilla. Mix with a hand mixer until creamy and potato chunks have disappeared. Pour potato mixture into the unbaked piecrust. Sprinkle pecan pieces on top. Bake for 50 to 60 minutes, or until knife comes out clean. Cool and serve with vanilla ice cream or whipped cream. For an extra festive touch, sprinkle ice cream with peppermint candy pieces.