Homemade Christmas cookies fresh from the oven are a great treat. Modern Christmas cookies can trace their history to recipes from Medieval Europe biscuits. By the 16th century, Christmas biscuits had become popular across Europe. The earliest examples of Christmas cookie recipes in the United States were brought by the Dutch in the early 17th century.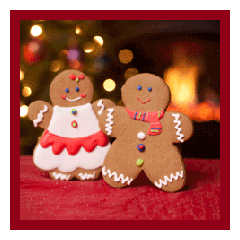 Later, due to a wide range of cheap imported products from Germany, cookie cutters eventually became available in American markets. These cookies cutters often depicted items designed to hang on Christmas trees. Due to the availability of these utensils, Christmas cookie recipes began to appear in cookbooks designed to use them. Cookies now are often cut into such shapes as those of candy canes, reindeer, and holly leaves and decorated with frosting and sprinkles.
A lot of people just don't have the time to make them, so you can always make a frozen cookie kit for use later. Mix up a batch of your favorite Christmas cookie recipes. Roll them out into balls and flatten them slightly. Flash freeze them by putting them on wax paper on a cookie sheet until they are solid. Remove them from the sheets and place them in a freezer bag. Bake for two to three minutes more than the normal time or until golden brown. They can be baked in small batches, even in the toaster over, or all at the same time.
Christmas Cookie Recipes
Christmas Gingerbread Men Cookies
Festive Spritz Cookies
Christmas Thumbprint Cookies
Christmas Cookie Cutouts
Eggnog Cookies
Laura Bush's Cowboy Cookies
Pistachio Christmas Ribbon Bars
Seven Layer Magic Bars
Snickerdoodles
Chocolate Rum Balls