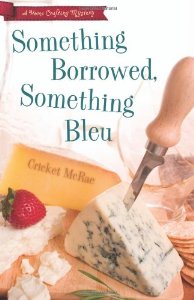 Product Description
Paperback: 288 pages
Publisher: MIDNIGHT INK; 1 edition (July 8, 2010)
Language: English
ISBN-10: 073871996X
ISBN-13: 978-0738719962
Customer Reviews
Other Editions
Kindle Edition
(What's Kindle?)

Love—and smelly cheese—are in the air. Sophie Mae has accepted Barr's marriage proposal, and they're trying to keep her mother, Anna Belle, from taking over their no-fuss, no-muss wedding plans. But when Mom finds a cryptic suicide note that Sophie Mae's brother wrote two decades earlier, Sophie Mae reluctantly makes a trip back to her hometown of Spring Creek, Colorado, to suss things out.
As she pokes around in other people's business while learning the finer points of artisan cheese making, a murderer strikes—with a glass bottle of milk. Soon, Sophie Mae discovers that aging cheese isn't the only thing in Spring Creek that doesn't pass the smell test.
Includes cheese-making tips!