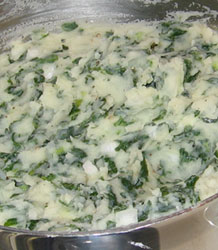 Green is the color of spring and of St. Patrick's Day. March 17 is the day St. Patrick is honored. If you're considering throwing a party, here are some great recipe ideas for throwing a green and fun St. Patrick's Day party your friends won't soon forget. These recipes are great for a fun dinner idea in your home with your family, too!
Planning the menu: Traditional foods eaten during St. Patrick's Day include Irish stew, Irish soda bread, mashed potatoes with garlic or fried potatoes. You can also serve non-traditional green foods such as cupcakes frosted with green cream cheese frosting, mint chocolate chip ice cream, or guacamole and chips. Green jello with fruit is another option if you're trying to find green foods to serve.
Consider making green beer if you and your guests enjoy the beverage. You might expect to drink Guinness during St. Patrick's Day but it's not an easy beer to make green. If your guests don't drink alcohol, you might want to serve green lemonade made with food coloring instead. You could also make green punch using ginger ale and lime sherbet.
Create a little piece of the Ireland in your home. Play Celtic music in the background. Gold and green candles can help add to the ambiance, or you can string green Christmas lights around the room to give everything an Irish glow. St. Patrick's Day comes but once a year. If you're proud of your Irish heritage, why not use these recipes to make a fabulous meal for a St. Patrick's Day dinner party.
Irish Soda Bread
If you're looking for a delicious and easy bread to make that doesn't require any yeast, it looks like you've found it.
Irish soda bread requires just a few simple ingredients and the baking process is straightforward.
The bread tastes best warm with a little butter melted on top. It goes great with Irish potato soup too.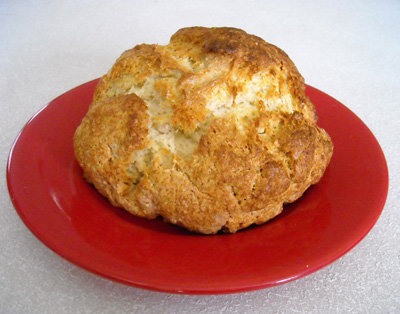 Ingredients for Bread:
4 cups flour
¼ cup sugar
2  teaspoons baking soda
1 tablespoon baking powder
¼ teaspoon salt
½ cup softened butter
1 cup buttermilk
1 egg
Ingredients for Bread Topping:
3 tablespoons melted butter
3 tablespoons buttermilk
Preparation:
Preheat oven to 375 F.
In a large bowl mix the dry ingredients including the flour, sugar, baking soda, baking powder and salt.
Add the softened butter and continue to mix. Using a pastry cutter makes the process of cutting in the butter and other wet ingredients much easier.
Once the butter is distributed throughout the flour, add the buttermilk and egg, continuing to work with the pastry cutter. Once, the ingredients are well mixed, start working the dough with your hands and knead it into a round-shaped loaf.
Place the loaf on a non-stick baking surface. At this point, you can combine the 3 tablespoons of butter and buttermilk to form a topping for the bread. Using a pastry brush, brush the mixture all over the loaf.
Now it's time to put the loaf in the oven on the middle rack. Bake for about 50 minutes. You can tell when it's done when it's nicely browned and a toothpick inserted in the center comes out clean.
Allow to cool slightly, but do try to enjoy it warm. It's delicious!