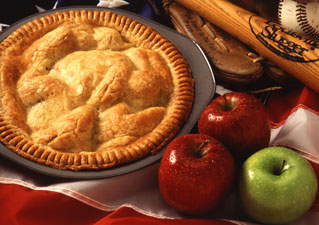 What You Need:
5 or 6 apples
½ C sugar
¼ tsp salt
½ tsp cinnamon
1 tbsp butter
1 tbsp flour
How to Make It:
Pare, core, and slice the apples.
Mix the sugar, salt, and cinnamon.
Line a pan with pie crust, sprinkle with a tablespoon of flour mixed with a tablespoon of sugar, and add the apples and sugar in layers.
Dot with butter, cover with an upper crust, and bake at 425° F for ten minutes, then lower the temperature to 350° F and bake until the apples are soft and filling is bubbly.
Note: This method of arranging the filling may be used for all fruit pies.