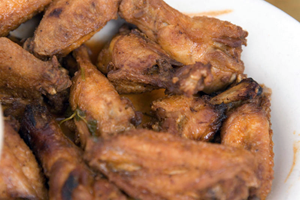 What You Need:
4 lbs chicken wings
1 (12 oz) bottle chili sauce
3 T lemon juice
1/4 C molasses
2 T Worcestershire sauce
4 dashes hot pepper sauce
1 T hot salsa
2 tsp chili powder
1 tsp garlic powder
2 tsp salt
How to Make It:
In a large mixing bowl mix together the chili sauce, lemon juice, molasses, Worcestershire sauce, hot pepper sauce and salsa.
Sprinkle in the chili powder, garlic powder and salt.
Mix to combine well.
Place the wings in the crock pot.
Pour the sauce mixture over the top.
Cover and cook on low 4 hours.
Tip: This makes a great appetizer for a party. Guests will eat them up having no idea you spent so little time making them.