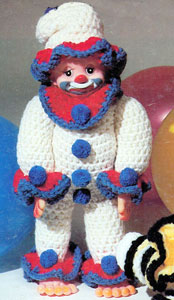 Materials
4-ply "main color" knitting worsted (white shown)
4-ply "contrasting color" knitting worsted (red shown)
4-ply "trim color" knitting worsted (blue shown)
Size G hook
1 pr. 2 ½" clown hands
1 pr. 2 ½" clown feet
3" hobo head
9, ½" "trim color" pom-poms (blue shown)
Polyfil
Follow all the crochet directions for the Pilgrim, except for Row 10. (Skip this row. It's not necessary to have those loops since you won't be adding a coat bottom.)
Collar
Row 1: Attach contrasting color (red) and pick up approximately 20 sts by single crocheting around neck edge. Amount of sts is not crucial. Join. Ch 4.
Row 2: 3 trc in each sc. Fasten off.
Row 3: Attach trim color (blue) and sc all around outside edge. Fasten off.
Repeat collar directions for sleeve and leg ruffles.
Hat
Row 1: Make a chain the length needed to go around the head, join, ch 2.
Row 2: 1 hdc in each chain, join, ch 2.
Row 3: Continue repeating row 2 for desired length. Mine is 10 rows. Next to last row skip every other st; join. Last row repeat above row. Gather end closed and fasten off.
Finishing
Glue or sew hands and feet into place.
Firmly stuff the whole body with cotton or polyfil.
Insert neck of head into body and glue or tie with cord.
Glue a pom-pom to the top of the hat. Glue a pompom to each cuff, each leg ruffle, and 4 down the front for buttons.
Other great patterns from Doll Delights in Crochet:
Pattern © 1981 by Plaid Enterprises, Inc. Reproduced with permission from Plaid. PurpleKittyYarns.com is not endorsed by Plaid.