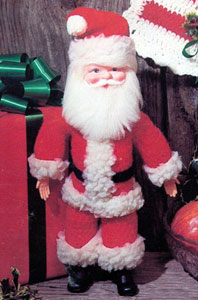 Materials
Red 4-ply knitting worsted
Size G hook
2 ½" Santa head
1 pr. 1 ¾" plastic hands
1 pr. 2 ¼" black plastic boots
Fake fur for beard
Craft fur for trim (or fake fur can be used here also)
½" x 7 ½" pc. black felt for belt
1" white pom-pom for hat
Cotton or polyfil for stuffing
Follow directions for the Pilgrim, omitting row 10. Follow General Directions for attaching hands and boots. Stuff with polyfil. Attach head.
Cut a piece of fake fur in a bib shape to fit the face for a beard. Lay the piece on the face with the fur side facing the face. Pin and glue edge of fur all around chin and up in front of the ears. Turn beard down so that fur faces outward. Glue a strip of fur all around his head for hair.
Hat: Crochet a hat as in the clown pattern, omitting the ruffle. Hat is 12 rows in sample. Glue a ½" wide strip of short craft or fake fur to the bottom edge of the hat. Glue a white pom-pom to the tip. Follow General Directions and attach hat to his head.
Glue ¾" strips of craft fur or fake fur around boots, around sleeves for cuffs, around lower waist, and down the front (see photo). Glue on his belt.
Other great patterns from Doll Delights in Crochet:
Pattern © 1981 by Plaid Enterprises, Inc. Reproduced with permission from Plaid. PurpleKittyYarns.com is not endorsed by Plaid.