Each year fires occurring during the holiday season injure 1,650 Americans and cause over $990 million in damage. There are simple life-saving steps you can take to ensure a safe and happy holiday. By following some of the outlined precautionary Christmas tree safety tips, individuals can greatly reduce their chances of becoming a holiday fire casualty.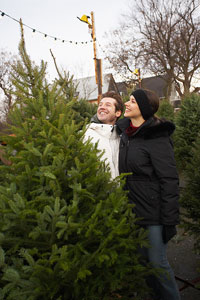 Preventing Christmas Tree Fires
Selecting a Tree for the Holiday
Needles on fresh trees should be green and hard to pull back from the branches, and the needle should not break if the tree has been freshly cut. The trunk should be sticky to the touch. Old trees can be identified by bouncing the tree trunk on the ground. If many needles fall off, the tree has been cut too long, has probably dried out, and is a fire hazard.
Caring for Your Tree
Do not place your tree close to a heat source, including a fireplace or heat vent. The heat will dry out the tree, causing it to be more easily ignited by heat, flame or sparks. Be careful not to drop or flick cigarette ashes near a tree. Do not put your live tree up too early or leave it up for longer than two weeks. Keep the tree stand filled with water at all times.
Disposing of Your Tree
Never put tree branches or needles in a fireplace or woodburning stove. When the tree becomes dry, discard it promptly. The best way to dispose of your tree is by taking it to a recycling center or having it hauled away by a community pick-up service.
An important part of Christmas tree safety is making sure you have smoke detectors
installed and a fire extinguisher
on hand.