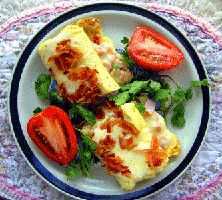 What You Need:
1/2 C of sweet onion, chopped
2 tsp olive oil
1 C of egg substitute
1/2 C cooked lean ham, diced
1/4 tsp season salt
1/8 tsp pepper
1/8 teaspoon paprika
3 tbsp fat free cream cheese, cubed
How to Make It:
Place onion and oil into a skillet over medium heat.
Cook the onion, stirring often, for 5 minutes or until soft.
Add the egg substitute to the skillet, lifting the edges to let the uncooked egg flow underneath.
When the eggs are set, add the ham, salt, pepper and paprika to one half of the egg.
Place the cream cheese cubes on top.
Fold the omelet over the top of the filling.
Cover and cook 2 minutes longer or until the cheese has melted completely.
Makes 2 omelets
No need to flip these eggs while they are cooking. By lifting up the edges of the egg as it sets it will allow the uncooked egg to run underneath. This will cook the egg completely without the mess of trying to turn it over and over again.
Preparation Time: approximately 5 minutes
Cooking Time: approximately 10 minutes
Total Time: approximately 15 minutes
Nutritional Information: (approximate value per serving)
Calories 215; Fat11g; Saturated Fat 4g; Carbohydrates 7g; Fiber 1g; Protein 22g; Cholesterol 23mg; Sodium 905mg