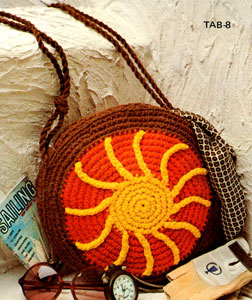 About 11 inches in diameter
You Need: 4 skeins of Brown & 1 each of Yellow & Tangerine
Needle: One "Boye" crochet hook Size I
Gauge: 5 sc to 2"
BACK: With Brown — ch 2, work 8 sc in 2nd ch from hook, do not join.
Mark beg of rows.
Row 2: 2 sc in each sc: 16 sc.
Row 3: [1 sc in next sc, 2 sc in next sc] 8 times: 24 sc.
Row 4: [1 sc in each of next 3 sc, 2 sc in next sc] 6 times: 30 sc. Continue to inc 6 sc every row (not over previous incs) until there are 16 rows from start and 102 sc around. Sl st in next st, fasten off.
FRONT: With Yellow — work same as back for 5 rows: 36 sc. Change to Tangerine and continue same as back for 7 more rows: 78 sc. Change to Brown and continue same as on back to 16 rows from start: 102 sc. Sl st in next st, fasten off.
RAYS: * With Yellow — ch 12, fasten off.
Sew in place as shown with flat side of chain to right side of bag. Repeat from * 11 times more.
GUSSET: With Brown — ch 6, 1 sc in 2nd ch from hook and in next 4 ch, ch 1, turn.
Work on the 5 sc for 25".
OPENING: Work 2 sc, ch 1, turn. Work on the 2 sc for 12", fasten off. Skip center sc on last long row, join and work on rem'ing 2 sc to match other side. Sew ends to starting chain, insert zipper then sew gusset between back & front.
HANDLES: Make 2. Cut three 4-yard strands of Brown. Twist tightly, fold in half and allow to twist again. Tie each end. Sew 1 end of each cord to each side of gusset next to zipper. Knot tog about 5" from gusset. Make another knot 5" from other end, then sew ends to correspond to other side. Line bag if desired.
Other great patterns from Totes and Bags, Leaflet 2550:
Pattern © 1972 by Columbia-Minerva. PurpleKittyYarns.com is not endorsed by Columbia-Minerva.