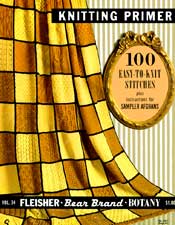 Knit one. Purl One. This is just the beginning in a whole series of fascinating adventures with your knitting needles. Why not explore them all? Learn, one by one, the one hundred intriguing patterns with complete instructions for each included. Once you know them all, no knitting problem will be too much for you. You will be able to create your own knitted originals, for all of these stitches are adaptable to any knitted article - sweaters for men, women and children, dresses, bedspreads or magnificent afghans.
So start now. Show your skill. Choose any 63 patterns of the 100 shown, then put them all together for the lovely Sampler Afghan or choose any two favorite patterns and create the elegant panel afghan. Two more attractive afghan ideas are also shown. It will be a lasting record of your knitting skill, something you'll be forever proud of.
HELPFUL INFORMATION
STITCH GAUGE-Important-Knitted articles are planned on the basis of working to a specified number of stitches and rows to 1 inch; this is referred to as the GAUGE. Required gauge is given at beginning of instructions. If this gauge is not obtained the finished article will not be the correct size. The size needles recommended will give the average worker the correct gauge. However, if you do not obtain the gauge required, change the size needles to conform to the tension of your individual work; if your work is too loose use smaller size needles to tighten gauge; if your work is too tight use larger size needles to loosen gauge. You MUST get gauge given to insure proper size of finished article.
COMPLETE ABBREVIATIONS
k-knit
p-purl
st(s)-stitch(es)
inc.(s.)-increase(s)
dec.(s.)-decrease(s)
St. st-stockinette st
tog.-together
beg.-beginning
pat.(s.)-pattern(s)
in.(s.)-inch(es)
sl-slip
yo-yarn over
sc-single crochet
SKP-sl 1, k 1, pass sl st over k st.
sl st-slip st-pass st from one needle to another without working it. Unless otherwise specified, always slip st as to p, except when dec.-as in slip, k and pass-, then slip as to k.
An asterisk (*) indicates that the instructions immediately following are to be repeated the given number of times in addition to the original.
Double Star (* *), Dagger (†) and Double Dagger († †) are used in the same way.
BLOCKING
With wrong side up, pin out on padded surface to given measurements. Steam lightly with moderately hot iron over a wet cloth taking care not to let weight of iron rest upon any one spot. Leave pinned until thoroughly dry.
Pattern © 1968 by Bernhard Ulmann. Reproduced with permission from Plaid. PurpleKittyYarns.com is not endorsed by Plaid.