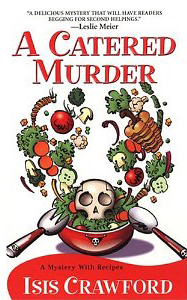 Product Description
Mass Market Paperback: 304 pages
Publisher: Kensington (November 1, 2004)
Language: English
ISBN-10: 1575667258
ISBN-13: 978-1575667256
Customer Reviews
Other Editions
Kindle Edition
(What's Kindle?)
Large Print

Hardcover
Bernadette Simmons wasn't sure what to expect when she left L.A.--and her no-good, cheating boyfriend--to move back in with her family in New York. And her sister Libby had no idea what she was in for when she hired Bernie to work for her catering business. But in between cutting up canapés and dishing up desserts, the two find themselves in the midst of a mystery they can really sink their teeth into. . .
It's only been a few days since Bernie and Libby started working together at A Little Taste of Heaven, and already they've got their hands full--baking cookies and slicing rare beef tenderloin to serve at a high school reunion. The dinner has a "Dracula" theme and a very strange guest of honor: Laird Wrenn, a New York Times bestselling author of vampire novels. Libby and Bernie know this will be an evening unlike any other. And they're proven right when Laird pours a glass of water, takes a long sip--and drops stone-cold dead. . .
Now, with murder on the menu and Libby under suspicion, the sisters will have to put their heads together to figure out whodunit--in a mystery that promises to be deadly to the very last bite.
Includes 7 Delectable Recipes for You to Try!